The struggle was real…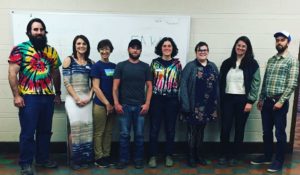 It's a bit surreal that our first cohort of mentors/interns are about to begin the 2018 growing season of the Farmer and Rancher Mentoring (FARM) program.
Lexy, Brenda, and I may have been a little worried at first with the pressure and enthusiasm of developing a mentorship program that is the first of its kind in the region—especially with its many different components. Interested mentor farmers seemed scarce, the struggles with the production of the webpage were VERY real, and the development of handbooks and other documentation specific to every aspect of the program seemed to run together like a giant unknown blob creature. After hours of research, deliberation, and "wingin' it", it feels as though everything has finally fallen into place – it may not be right where we want it, but it's pretty darn close for a pilot year. We are trucking right along with a full head of steam and we have an amazing group of folks on board!
All aboard the FARMing express!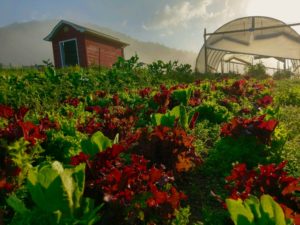 By May 1st, 2018, 5 adult interns will begin their 200-hour hands-on educational experience throughout the 6 months growing season on 5 mentor farms throughout Southwest Virginia and Northeast Tennessee. During their time on the farm, interns will submit at least 2 blogs about their on-farm experience and a one-page business plan.
.
They will meet with their Mentors on at least 3 different occasions to discuss and develop 3 learning goals for the intern to advance during the mentorship and, if willing, will participate in a series of evaluations with a 3rd party evaluation team from East Tennessee State University's Applied Social Research Lab. (Those chicks are the BOMB!)
.
Another exciting component of the program is the Youth Mentorship being administered by Rural Resources in Greeneville, TN. Young interns ranging in age from 16-22 will be paired with mentor farms in Northeast Tennessee to receive 70 hours of similar on-farm training as the adult intern. Adult and youth interns who successfully complete the FARM program will receive a helpful mini-grant and a certificate of completion.
Basic Farming Training for Inmates from the Southwest Virginia Regional Jail
A third cog in the wheel is the Re-entry Mentoring component. Mentor Farmers Adam Pendleton and Tyler Maggard will work as a team to deliver basic farming training to inmates in the workforce program from the Southwest Virginia Regional Jail. The inmates will also receive professional development skills training by Tyler and myself in hopes to ready them for re-entry into the workforce.
.
As Regional Coalition Coordinator for Appalachian Sustainable Development, I think I can safely speak for all of our partners when I say that this will be a thrilling pilot year! We are all ready to learn how to perfect this program as a team and ready to aid in progressing the careers of beginning farmers, adult and youth alike..
Godspeed…and Happy FARMing!
Contact The Project Manager
Jenni Roop
Project Manager
Email Jenni
276.623.1121
---
---
©2018 Appalachian Sustainable Development. All rights reserved.