Farm-to-Table Suppers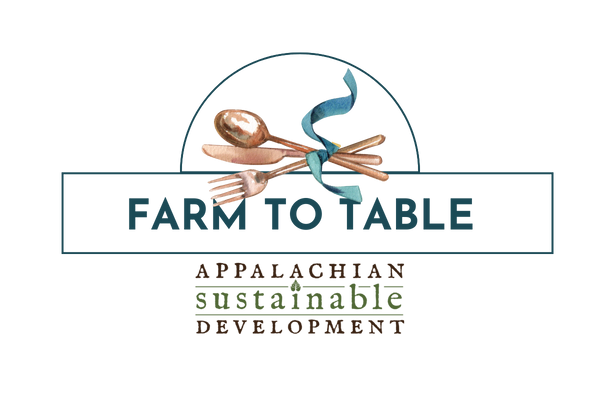 Experience intimate gatherings while enjoying the subtle beauty of dining on a working farm or in a unique venue. You'll enjoy a multi-course meal primarily sourced from local farmers, growers, brewers, and food producers, and expertly prepared by the region's best chefs. These Farm-to-Table Suppers are a main fundraising event for ASD and a wonderful way to support local growers and the local food movement. Please check out our tentative 2024 Farm to Table Supper schedule below, as well as photos from some of our previous events.
If you would like to sponsor a Farm to Table Supper, please contact Sylvia Crum at scrum@asdevelop.org or 276-791-5572.
2024 Schedule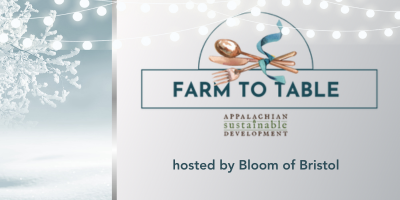 January 22, 2024
A special culinary experience featuring a 5-course dinner paired with delicious Tumbling Creek Cider Company special selection ciders. Hosted by Bloom in Bristol, VA.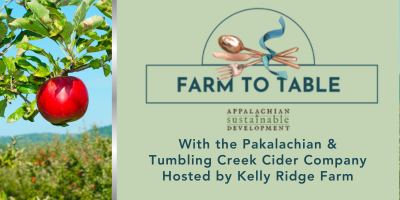 May 6, 2024
Special off-menu dishes from The Pakalachian, paired with Tumbling Creek Cider Company's tasty ciders. Hosted by Kelly Ridge Farm. Come early for a farm tour.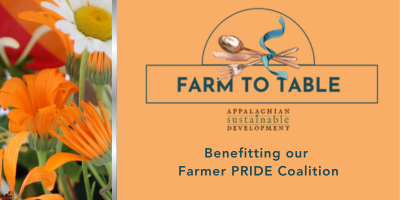 September 30, 2024
Our 2nd Farmer-PRIDE-to Table Supper benefitting our Farmer PRIDE Coalition, with food sourced primarily from LGBTQ+ growers. Presented by Hard Rock.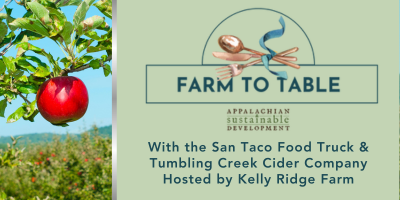 October 7, 2024
Returning to Kelly Ridge Farm for a 3-course off-menu meal from San Taco Food Truck, with drinks by Tumbling Creek Cider Company. Come early for a farm tour.
Photo Album: July 31, 2023 – The Pakalachian, Tumbling Creek Cider Company, and Kelly Ridge Farms in Meadowview.