Growing for a Stronger Appalachia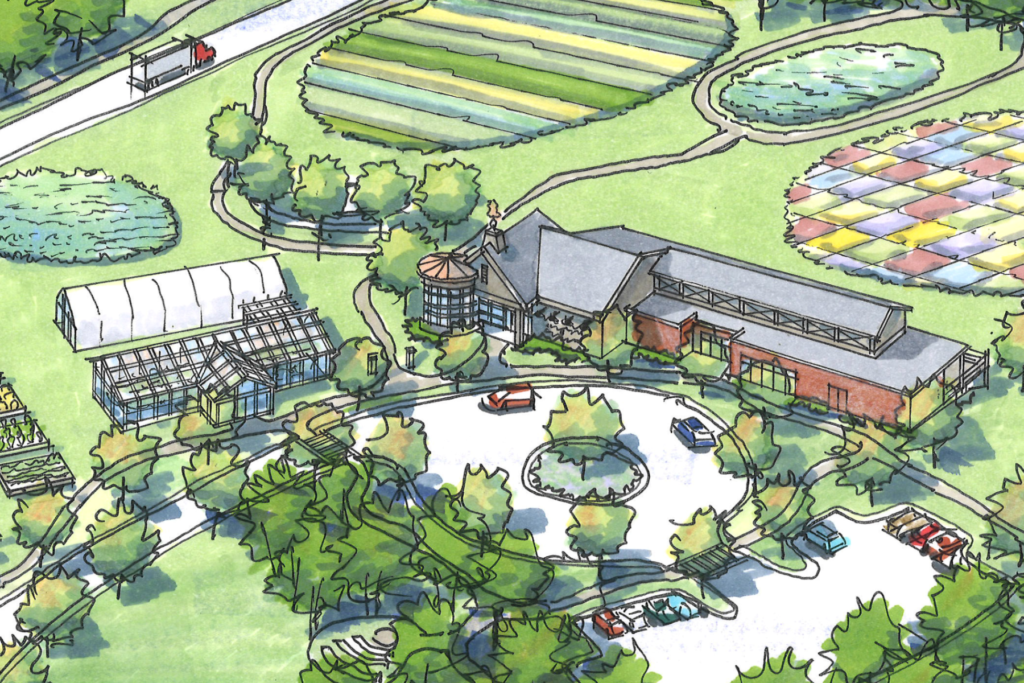 We're ready to take it to the next level. Will you help us grow for a stronger Appalachia?
We're building a destination campus to support agriculture in central appalachia
Now through the end of 2025, we are raising $12 million to build an expansive agricultural campus on our 17+ acre property at 17444 Singingwood Lane in Bristol, VA. The campus will be a place where we champion agriculture by teaching people how to grow in ways that are more innovative, efficient, sustainable, profitable, and just. A place that gives rise to new agriculture and food businesses, more efficient and successful farms, and a stronger regional workforce, all while providing better access to nutritious food and the resulting positive health outcomes.
Agriculture has the power to transform Central Appalachia. That's why, since 1995, ASD has been a quiet but driving force in economic development, supporting growers, food access, workforce development, and sustainability. Our mission is to build a thriving regional food and agriculture system that creates healthy communities, respects the planet, and cultivates profitable opportunities for Appalachians.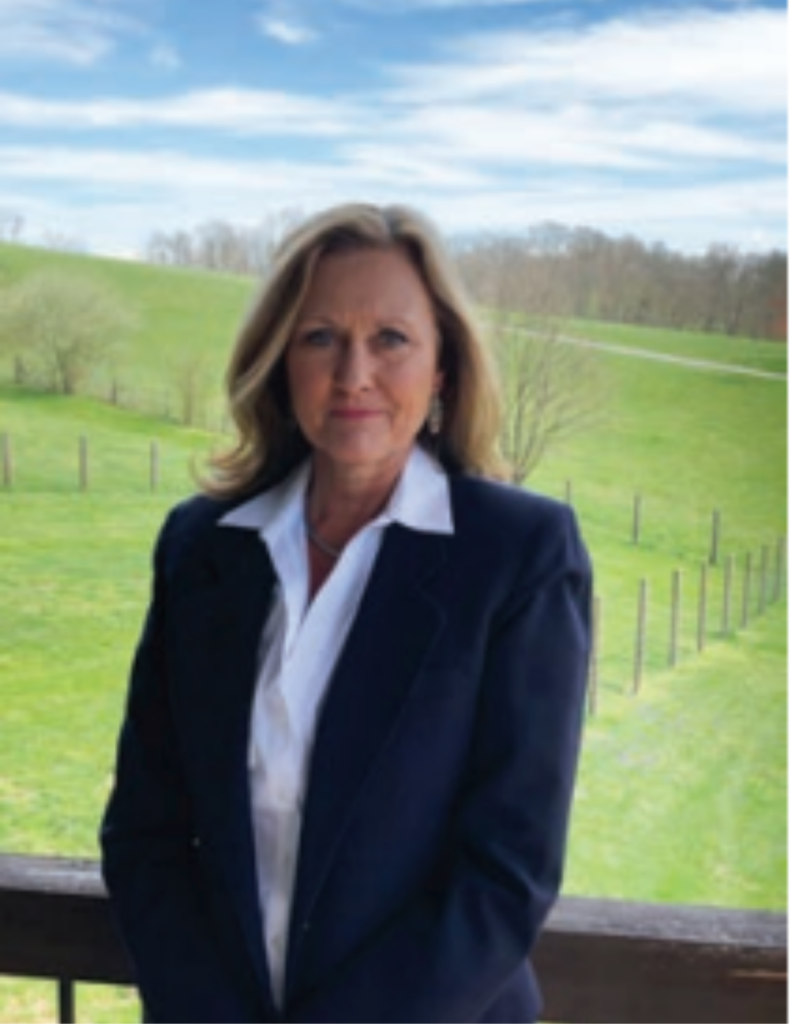 Appalachia lost nearly 30,000 farms and more than 1.8 million acres of farmland between 2007 and 2017. The average farmer age is 65. When you project those numbers into the future, it paints a grim picture for what could happen to our food supply system unless something is done.
Here at home, 1 in 8 families is food insecure, and we're among the highest in the nation on average poverty, hunger, and unemployment. We are surrounded by food deserts (areas where low-income populations have limited access to transportation, and a limited number of retailers to provide fresh produce and healthy groceries at affordable prices). The pandemic showed us that, in crisis, our regional food security is too closely reliant on a national food system.
And yet, among this poverty and struggle, there is so much potential. Appalachia has some of the most fertile land in the nation. Our communities, and our people, are hard working and resilient. There's been a national shift in the perception of the value of Appalachia – caused, in part, by the pandemic. As more and more people have filtered into our communities, it's reawakened our sense of Appalachian pride. We are embracing our roots, respecting the histories and traditions of being more self-sufficient and community-focused, while still reaching toward progress and change.
Agriculture is at the heart of these issues: it's both the solution to so many of the struggles Appalachia faces and the foundation for so much hope for the future. Nobody knows agriculture in Central Appalachia like ASD. We have an almost 30-year history of making impacts, and a strong partnership network that extends from Kentucky to Maryland to Georgia. We are leading the effort to change the narrative of Appalachia through agriculture, tailoring our work to meet the level of need in the community, whether that means raised beds at Bristol area schools or food boxes in Buchanan County.
That's why it's so important for ASD to expand, and to do it now. We're building a 17+ acre campus that will be a hub for agriculture-based economic development. A place where we champion agriculture by teaching people how to grow in ways that are more innovative, efficient, and profitable. A place that gives rise to new agriculture and food businesses, more efficient and successful farms, a stronger regional workforce, and better access to nutritious food and the resulting positive health outcomes. Perfectly positioned between Bristol and Abingdon, with easy interstate access, the campus will provide critical infrastructure to support and strengthen not only food access, but emergency food access, through increased aggregation and distribution resources and increased agility for timely response in times of urgency.
ASD has an almost 30-year history of enriching the lives of Appalachians. Now, as we embark on this capital campaign, we celebrate those victories with our Appalachian communities and we look forward to another 30 years of even stronger impacts through agriculture.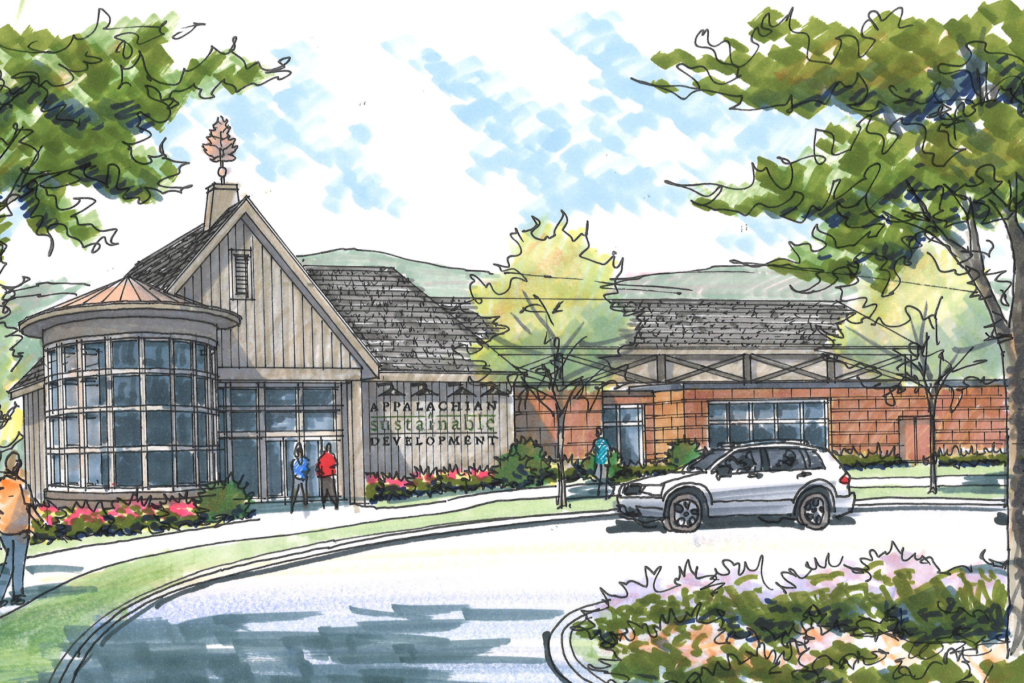 10,000 square-foot Ag Business Hub
Ag-business training and incubation
Flexible, customizable space to accommodate a variety of needs
A place for community events and gatherings
A green facility, incorporating LEED principles and alternative energies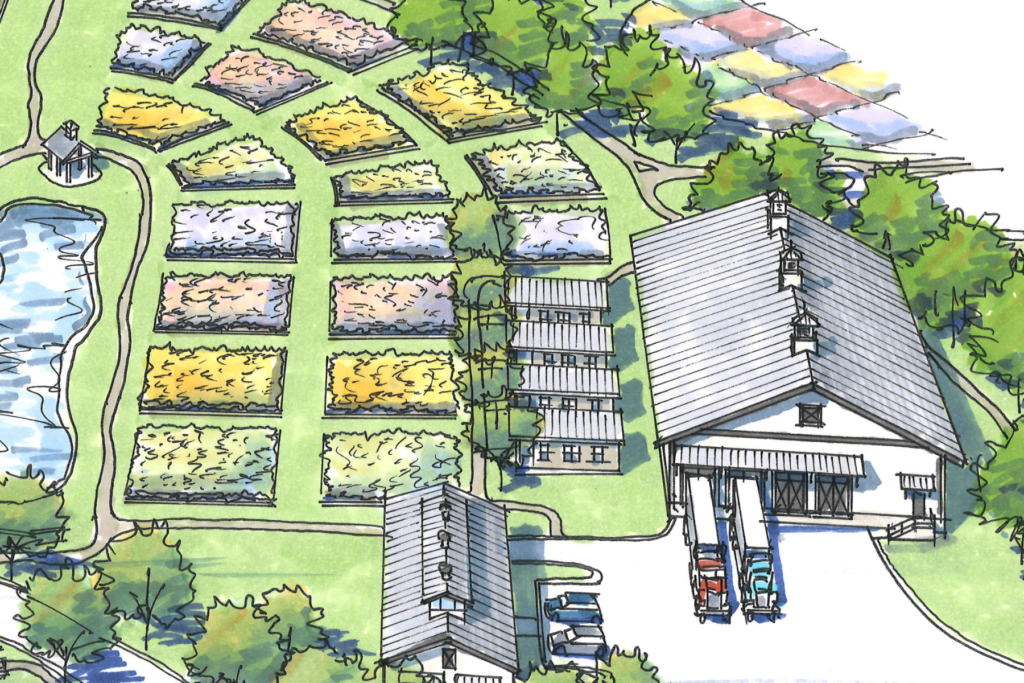 8,000 square-foot Food Hub
Aggregation site for area farmers
Easy I-81 access, for distributing food to local and regional markets
Food processing equipment, for value-added production
Indoor production for Agroforestry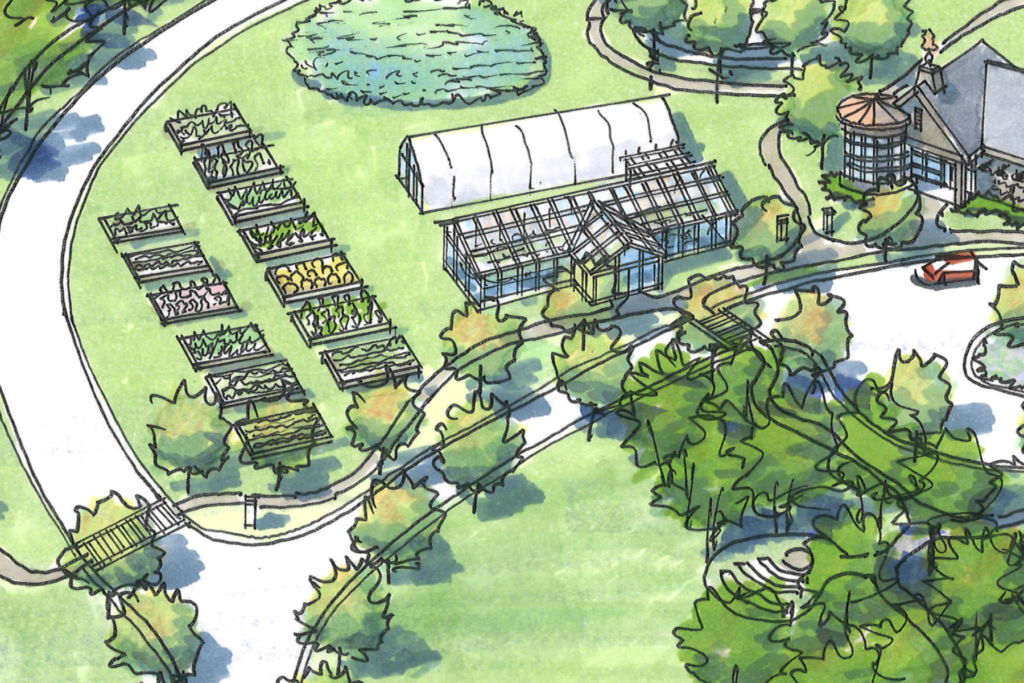 Greenhouses and Lath House
Two greenhouses to grow plant starts for trees, forest botanicals, and other at-risk and low inventory plants
A lath house to mimic the dappled shade of the forest, ideal for growing forest botanicals
These growing spaces will be the worksite for Groundwork, our workforce development program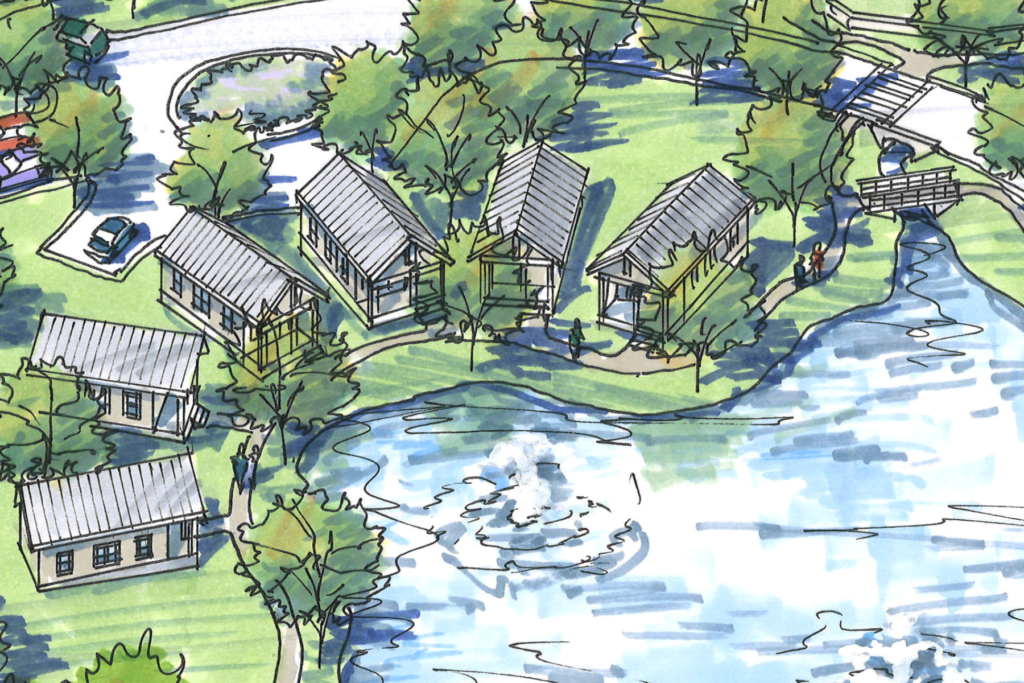 Rentable Structures
Yurts, cabins, or silos – spaced around our water reclamation pond, available for rent to visiting ag professionals and agritourism enthusiasts
The water reclamation pond, for catching ground runoff – not just a pretty feature, but a smart resource for controlling water expenses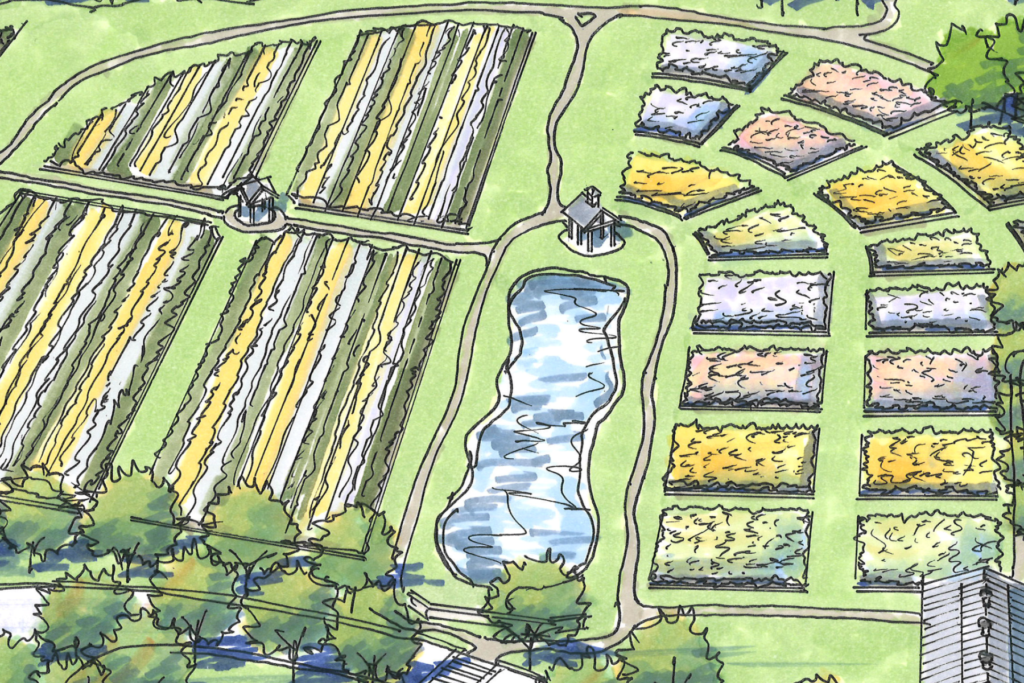 Production Spaces – Back of Property
Demonstration spaces for regenerative agriculture practices, like alley cropping, silvopasture, and forest farming
Limited production beds for flowers and bulbs to support our Late Bloomers social enterprise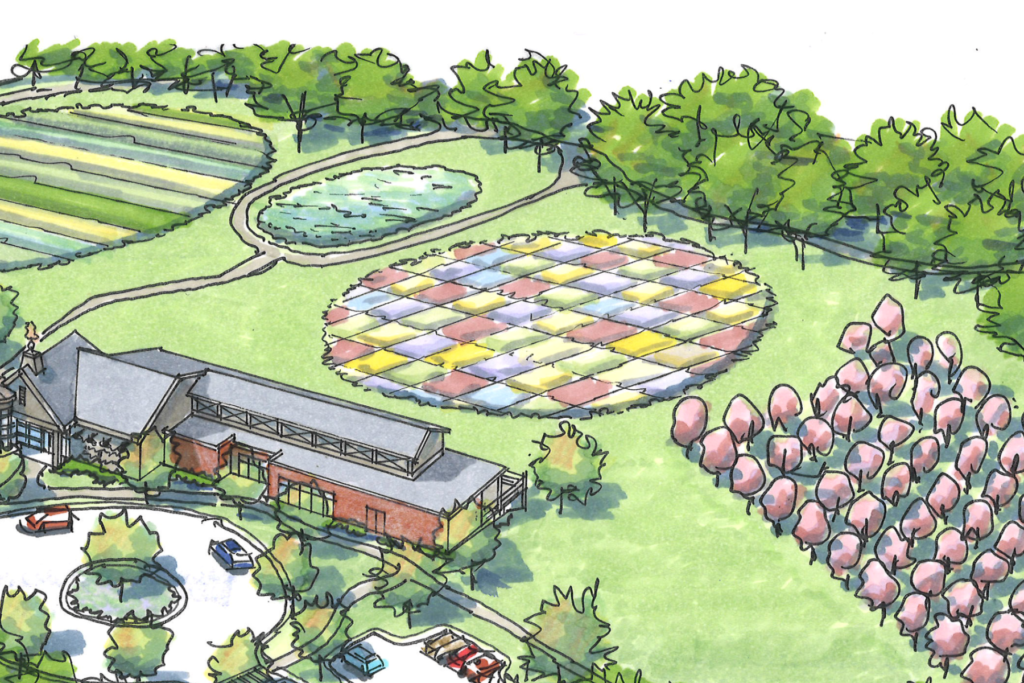 Production Spaces – Front of Property
An orchard
Pollinator gardens
Raised beds
All grown for demonstration, research, and training
Our Capital Campaign is led by a dedicated group of individuals who provide strategic guidance, leadership, and support throughout the duration of the capital campaign.
Dr. Theresa Burriss, former director of Appalachian Studies at Radford University, is a passionate and trusted leader. An experienced scholar dedicated to community and economic development, she is now the Assistant Vice President of Community Engagement and Economic Development at Emory & Henry College. Her commitment to regional progress is underscored by her previous service as a Fulbright Scholar, where she taught Appalachian Literature at Transilvania University in Romania, conducted cross-cultural research linking Appalachia and Romania's Jiu Valley, and was appointed to the Virginia Council for Environmental Justice by former Governor Ralph Northam. Dr. Burriss also leads the Emory & Henry Women's Center, championing initiatives that empower women in Central Appalachia. Her dedication to enhancing the holistic health and economic future of the region is emblematic of Emory & Henry's commitment to positive momentum and abundant opportunity for the communities it serves. Dr. Burriss was born and raised in Bristol, TN, and resides in Washington County, VA, with her family. She serves as the immediate past ASD Board Chair.
Ben's extensive experience and leadership in horticulture and agriculture reflect his dedication to education, community, and sustainable agriculture. His contributions to both academia and practical agriculture have made a significant impact in this region and beyond. Ben has served in various leadership roles. He owned and operated Appalachian Wildside, LLC, a venture specializing in producing high-value, organically-grown produce and herbs. He also became the first greenhouse manager at Virginia Highlands Community College and began teaching horticulture full-time in 2014. In 2017, he finished his Masters in Agriculture and Life Science through Virginia Tech and now serves as the program coordinator for Agriculture and Natural Resources and teaches a full load of horticulture courses. His expertise in this field and his commitment to education have made a significant impact on the community college. He is deeply passionate about nurturing the growth and development of students in the field of agriculture, a commitment he has demonstrated through his involvement in the Upward Bound Summer Program at the college. Ben grew up in Bristol, VA, and after spending time away from home, has returned to the Appalachian community.
Earl's illustrious career spans seven years as an elected member of the Harrisburg City Council, followed by an appointment by President Obama, unanimously confirmed by the US Senate, to serve as the Federal Co-Chair of the Appalachian Regional Commission—a distinguished role he held for eight years. During his tenure, Earl led a transformative 3-state tour, emphasizing the pivotal role of local foods in nurturing local economies. He spearheaded the "Local Foods, Local Places" program, supporting community efforts that integrated local foods into their economic landscapes. With over four decades of dedicated public service at local, state, and federal levels, Earl continues to make a profound impact. Earl envisions the "Growing for a Stronger Appalachia" campaign as a monumental growth opportunity for ASD with far-reaching direct and indirect benefits.
Jacob "Jake" Harris, a seasoned senior vice president and middle market banker at Truist Bank, oversees the East Tennessee market. With degrees in Finance and Economics from King University and The University of South Florida, Jake brings 18 years of experience in commercial banking. Throughout his career, he has managed diverse commercial banking relationships, including municipalities, non-profits, and a wide array of public and private companies. Since joining Truist in September 2018, he has excelled as a relationship manager. Jake is dedicated to community engagement and has been a long standing board member for Appalachian Sustainable Development. He also makes time to contribute to youth sports in his community. Alongside his wife, Amy, and their children, Camden and Paislee, Jake is an outdoor enthusiast who relishes outdoor activities, gardening, cooking, making music, and cherishing moments with family and friends.
Dirk has worked at Emory & Henry for more than 29 years. He began as faculty in Mass Communications and later took on roles in administration, including director of public relations and executive director of the McGlothlin Center for the Arts. He's earned numerous accolades from the Tri-Cities PRSA and the 2015 Silver Award from the AAF of Southwest Virginia. As a radio show host on WEHC 90.7, he was recognized for news reporting by the Virginia Association of Broadcasters in 2022. Dedicated to community development, Moore founded Project Glade and co-founded the Glade Spring Farmers Market. He was pivotal in raising over $600,000 for a business incubator and innovation center in Glade Spring. His service extends to the Glade Spring Town Council and Planning Commission. He received the Volunteer of the Year Award from the United Way of Southwest Virginia and was named a Paul Harris Fellow by the Rotary Foundation. At Emory & Henry, he received The Hope Award and the Maiden Award for remarkable contributions to the College and community. Moore is the owner of Blue Hills Community Market, an active member of the Glade Spring Town Council, and serves on numerous boards for organizations focused on community and economic development.
Nancy is a skilled facilitator and is much in demand by organizations seeking to build consensus and agreement on the action steps for change and growth. As the former managing partner of Raybin Associates, she brings her background in strategic planning, governance, management, organization, and business consulting to her clients. In her role at McKinsey & Company, she utilized her experience in organizing and running nonprofit health clinics in Appalachia, with a particular interest in solving big, complex problems for nonprofit institutions. Nancy has worked with a wide range of nonprofits in various sectors, including arts and culture, education, religion, human services, and the environment. Nancy is a Past Chair of The Giving Institute and previously chaired the Giving USA Foundation, which publishes Giving USA, the oldest and most comprehensive annual report on philanthropy. Nancy is also a frequent speaker at Fundraising Day in New York, the Association of Fundraising Professionals (AFP), and Women in Development-New York. A leader by nature, training, and practice, Nancy graduated from Vanderbilt University, where she has also served as a Trustee. She holds a Master's in Public and Private Management from Yale University. Nancy's background and experience are an immense asset to the "Growing for a Stronger Appalachia" campaign strategy.
Recognizing our Donors
Naming Opportunities
Naming opportunities are available at a variety of contribution levels. We will be pleased to provide more detailed information about these naming opportunities upon request.
Ways to Give
There are many ways to make gifts to ASD through our Growing for a Stronger Appalachia capital campaign. These include cash, appreciated securities, qualified retirement plan assets, annuities, insurance, charitable trusts, real property, and legacy bequests.
Contact Us
For more information, please contact Sylvia Crum, Director of Development, who can meet with you and your advisors to discuss a contribution that meets your philanthropic goals as well as your tax and estate planning objectives.
Phone: 276-791-5572
Email: scrum@asdevelop.org