Appalachian Harvest Food Hub
Founded in 2000, Appalachian Harvest is Appalachian Sustainable Development's rural food hub. Following the federal deregulation of tobacco production, many local farmers found their incomes drastically reduced and wanted alternative crops to capitalize on their experience and existing resources. Our food hub assisted growers by transitioning them from tobacco to produce, allowing them to remain on their family farms.
Our team works shoulder to shoulder with small to medium-scale local farmers, helping them get their goods to market. We provide GAP (Good Agricultural Practices) certification training, assist with organic certifications, and provide them with much-needed, year-round technical support. Our team also secures retail orders from various wholesale markets and provides aggregation and distribution of locally grown produce from Maryland to Georgia.
To date, our food hub assisted farmers in selling more than $23 million of produce to wholesale grocers/produce brokers while facilitating over 16 million pounds of food donations (we also buy our farmer's seconds intending to reduce food waste) to local families through our Healthy Families Family Farms initiative – 2.2 million pounds in 2020 and approximately 1.5 million pounds as of April 2021!
---
Food Hub Services
GAP Certification &Organic Training
We offer annual trainings to help you better understand GAP and organic regulations.
Please contact Adam Pendleton for more information.
Technical Assistance
We offer year-round resource sharing, production planning calls and site visits.
Processing Equipment
We provide access to wash lines and packaging supplies to increase post-harvest handling efficiencies and enhance product quality.
Aggregation & Marketing
We partner with a network of local farmers and large wholesale markets who seek high-quality, sustainably grown produce. To date, we assisted farmers in selling more than $23 million of produce to wholesale grocers/produce brokers.
---
Appalachian Harvest Programs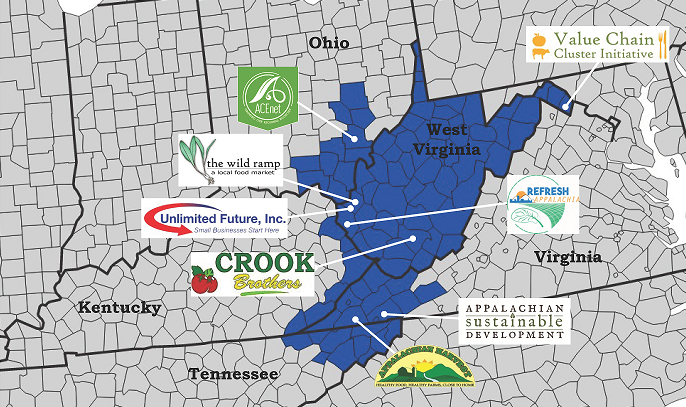 AH, in partnership with ASD, Refresh Appalachia, Sprouting Farms, the Kentucky Center for Agriculture and Rural Development, Community Farm Alliance, and Whitlock Farm, will expand the impact and scale of the Central Appalachian Food Corridor across several Appalachian states.
Through previous POWER funding, the Central Appalachian Food Corridor effectively connected both established and emerging farmers and value-added product entrepreneurs throughout Central Appalachia to wholesale distribution markets, leading to increased agricultural business development and job creation. The current project will increase the number of farmers served and food enterprises engaged while building a collaborative business model that connects various parts of the food system in Central Appalachia to attract private investment and position the collective for significant growth and financial sustainability.
AH offers a wonderful selection of the highest quality jams, jellies, salsas and pickled awesomeness you can find. We guarantee you will LOVE our pantry staples and encourage you to give them a try. You can find our products at Ingles and Food Country or can check out our brand new website!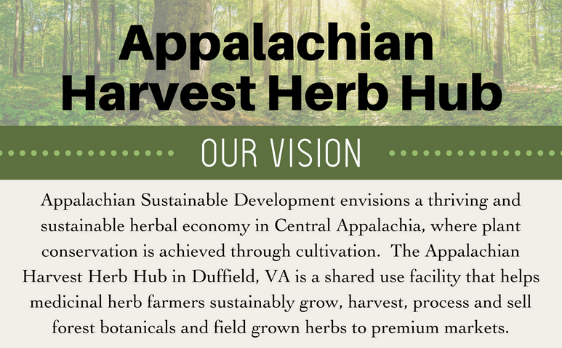 In 2017, the Appalachian Harvest Food Hub expanded to include an Herb Hub in its Duffield, Virginia facility. The Herb Hub envisions a thriving and sustainable herbal economy in Central Appalachia, where plant conservation is achieved through profitable cultivation.
---
Contact Information

Robin Robbins
General Manager

Adam Pendleton
Assistant General Manager