Job Openings
Appalachian Sustainable Development is an equal opportunity employer. All applicants will be considered for employment without attention to race, color, religion, sex, sexual orientation, gender identity, national origin, veteran or disability status.
---
ASD Positions
Veteran Program Assistant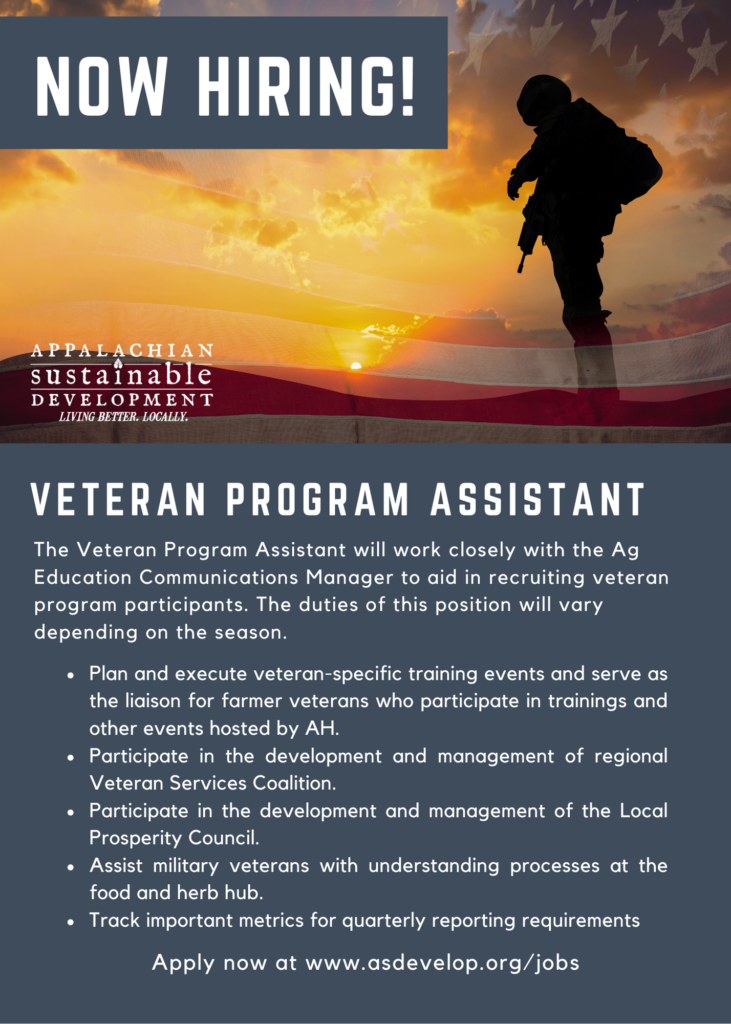 This is a remote part-time position: $15-$16 per hour.

PLEASE SUBMIT RESUME AND COVER LETTER
Position Description
The Veteran Program Assistant will work closely with the Ag Education Communications Manager to aid in recruiting veteran program participants. The duties of this position will vary depending on the season.
Responsibilities
AH Food and Herb Hub
Work with the AH Facility Manager to understand how the food hub functions and how veterans can participate in this program.
Work with the Procurement Manager to understand how the herb hub functions and how veterans can process and sell herbs through this program.
Veteran Recruitment and Support
Work with the Ag Education Communications Manager and AH staff to plan and execute veteran-specific training events and serve as the liaison for farmer veterans who participate in trainings and other events hosted by AH.
Participate in the development and management of regional Veteran Services Coalition.
Participate in the development and management of the Local Prosperity Council.
Assist military veterans with understanding processes at the food and herb hub.
Track important metrics for quarterly reporting requirements
---
Groundwork Positions
Coming soon – Apply now
Although recruitment for all Groundwork positions will not be open until early 2022, we still encourage you to apply! Positions are available in agriculture and entrepreneurship, warehousing and logistics, digital media production, and sustainability. We will contact you to follow up once we receive your application.
---
Appalachian Harvest Positions
Truck Driver – Appalachian Harvest
We need more Appalachian Harvest Drivers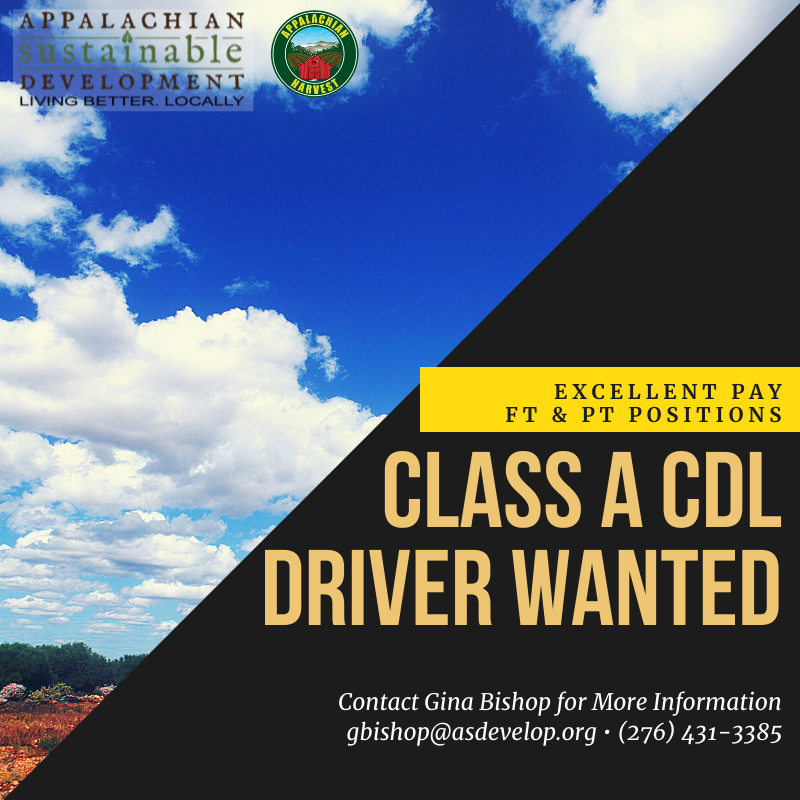 ASD's Appalachian Harvest Food Hub in Duffield, VA provides support, training, aggregation and distribution support to markets for regional farmers. Since 2000, farmers have sold more than $16 million dollars of fruits and vegetables to wholesale retailers.
All drivers must have:
2 years over the road experience
Hold a Class A CDL
Ability to pass required drug screen
A good driving record
Contact Gina Bishop for more details:
Phone: (276)431-3385
Email: gbishop@asdevelop.org
---
Request for Proposals
None Available
---
AmeriCorps VISTA Positions
NONE AVAILABLE