Staff
Senior Management

Kathlyn Terry Baker, Chief Executive Officer
Kathlyn became Chief Executive Officer of Appalachian Sustainable Development in 2011 after serving for 5 years as its first Business Operations Manager. She uses her strong background in large national project implementations and her experience with food systems development to identify and implement collaborative, cross-sector opportunities to increase the health of the region and to promote collaborative methodologies and approaches. Kathlyn has served on the VA Governor's Council on Bridging the Nutritional Divide and serves on numerous steering committees and advisory boards including the Central Appalachian Network and The Appalachian Funders Network. She holds a bachelor's degree in business from Texas A&M University. Like many at ASD, she is an avid lover of her furry canine children along with her not quite as furry son and daughter-in-law.

Angie Vanover, Chief Operations Officer
Angie resides in Wise, VA with her husband, Coy and daughter, LeeAnn. Angie joined ASD in August 2017 after an extensive background in the call center industry. Most recently, she was with Teleperformance where she was responsible for 1600 employees across 4 locations and 2 countries as the Director of Operations. Angie spent 5 years with Sykes Enterprises as Site Director – Major Market Accounts, servicing both banking and mobility clients. Prior to Sykes, she spent 12 years in a leadership role at Verizon Communications, Inc. Her professional career has provided her experience in financial management and reporting, operations, business analysis and leadership. Angie holds a Master's of Business Administration degree from King College and Bachelor of Science degree in Business Management from East Tennessee State University

Robin Robbins, Appalachian Harvest Food Hub General Manager
Robin joined ASD as the Appalachian Harvest Food Hub Marketer in September 2005. Prior to joining ASD, she was a public school teacher in the Lee Countypublic school system, as well as an advocate for children with special needs. Raised on a tobacco farm, Robin joined the Appalachian Harvest Food Hub network as a certified advocate for health, nutrition and building local community, and has many years of experience organizing events and special campaigns. After being promoted to General Manager in 2011, she drafted the Appalachian Harvest GAP Mirror Program and merged the USDA National Organic Program rules with GAP practice language into one farmer-friendly document. She also trains farmers on GAP procedures and processes. Robin and her husband Dave own and operate their own farm, Robbins Family Farm. They have 3 daughters. Outside of work she absolutely loves anything outside, working with children and helping others.

Sylvia Crum, Director of Communications and Development
Originally from Chicago, Sylvia moved to the region in 1994. Over the years, she has been involved with ASD in a variety of ways. She has been a board member, donor and an ASD volunteer. In her current position since 2013, Sylvia is responsible for ASD's development and communication's efforts. She works to create mutually beneficial sponsorship opportunities for corporate clients interested in investing in ASD while also managing major donor campaigns, community outreach events and social media efforts. Sylvia also works with local and regional media partners to ensure that progress and news about ASD is heard far and wide. Sylvia has a Bachelor's degree in Marketing from Columbia College, Chicago and has worked in for-profit marketing/advertising, sales and management roles for several small to mid-size companies. Sylvia has 2 adult children and lives on a 15-acre farm in Washington County, VA.

Katie Commender, Agroforestry Program Director
Katie first joined the ASD family in 2012 as a Sustainable Forestry AmeriCorps VISTA. Falling in love with the people, woods and farms of Appalachia, this Yankee-turned-biscuit lover has since built outdoor classroom gardens and trails, developed a riparian buffer program and taught forest farming workshops. In 2014, Katie took a hiatus at Virginia Tech to work on her Master's in Forestry. In 2016, she returned to ASD to help create a regional local food corridor connecting existing Appalachian Harvest Food Hub distribution routes with supply from local farmers in WV, KY and OH. When not whipping up ramp biscuits and pawpaw ice cream, she's fully committed to hiking, paddling and rock climbing her way to Narnia. Prior to an unfortunate series of events with a stingray, her first career aspirations were to be Steve Erwin's apprentice on Animal Planet.

Adam Pendleton, Appalachian Harvest Assistant Manager/Value Chain Coordinator
Adam is a Lee County, Virginia native and began working at the Appalachian Harvest Food Hub in 2014. He ensures that the facility is running efficiently, orders are processed correctly and trucks loaded accurately while also providing technical assistance to farmers and helping supervise support staff and volunteers. Adam has his own farm, Pendleton Farms and raises registered Simmentals. He also grows a variety of produce for Appalachian Harvest. Adam enjoys boating, fishing, hunting and spending time with his two nieces.
---
Office Personnel

Chelsea Lee, Operations Manager
Chelsea is the Operations Manager for ASD who started out as a volunteer in 2017 after relocating from Austin, TX. She attended the University of Texas and earned a Bachelor's degree of Natural Science. Chelsea lives in Bristol, VA with her dog Maisie and an excessive amount of baby succulents she brought with her from Texas.

Della McGuire, Grant Writer
Della was a lifelong nomad until setting down roots in downtown Bristol when her son started school. The transition from migratory living to home ownership sprouted her obsession with gardening. With a background in trauma mitigation, crisis intervention and adult education; gardening had always been Della's favorite self care practice and a means of decompressing after a difficult day. This passion planted the seed that led her to some of the classes offered at ASD and their partner agencies in the region, which have helped her grow into an urban nanofarmer. After a few years of acclimating to this new environment, Della is ready to graft on a new career. Gardening professionally is an exercise in ecological love, personal preservation and sustainable living that she hopes to cultivate into an invasive philosophy that will spread to everyone she encounters.

Lindsey Felty, Outreach Manager
Lindsey is the Outreach Manager who manages work in Buchanan County, VA and Tazewell County, VA. She also manages the Virginia Fresh Match Program and the Local Food Guide. Her work touches all programs across ASD. Lindsey was born and raised in Buchanan County, VA, she is thrilled to be able to work "back home" and increase awareness of ASD's resources. She holds a bachelor's degree in Health Information Management from Eastern Kentucky University. Lindsey currently resides in Abingdon, VA with her husband, Matt and their three furry canine children, Tucker, Annabelle, and Oliver.

Matthew Graves, ASD Program Associate
Originally from Central PA, Matthew moved to the region in the Fall of 2019. Before moving Matthew spent four years with CommunityAid, a non-profit committed to helping communities in PA and Maryland.Joining ASD in the Spring of 2020 as a program associate, Matthew will be using talents for teaching and community-building to assist the farmers and farmers markets in our region. Matthew resides in Abingdon with his partner, Rachael, and their two rescue cats, Dangerpuss and Wednesday.
---
Agriculture Education Team
Chelsea Goulding, Ag. Education Program Manager
Chelsea comes to ASD with a wealth of knowledge and a deep respect for the Appalachian Mountains. She currently lives in the outskirts of Washington County, A, VA, a small plot with 1 dog, 2 cats, 6 pet chickens, too many houseplants and a backyard brimming with food. Familiar with both home and market gardens, she has managed multiple farms and comes to ASD directly from the position of Greenhouse Manager at Virginia Highlands Community College. A VHCC alumni, she also holds a Bachelor's of Science in Environmental Horticulture from Virginia Tech. Treating her backyard as a laboratory, Chelsea always ends up focusing on at least one mini-project a year. Currently in her garden, she is experimenting with the impact of different mulching materials and methods on plant health. She is fascinated that the tomatillo previously deer-pruned is producing ten times the fruit as those not deer-pruned, and she is comparing the growth habits of five different species of sage and ten varieties of basil in her herb row. Chelsea looks forward to bringing her years of knowledge and experience to Appalachian Sustainable Development and Grow Appalachia.

Jenni Roop, Ag Education Communications Manager
Jenni is Ag. Ed. Communications Manager who manages the FARM & SWVA Field School programs, ASD's website, and communications related to Ag Education and Military Veterans. Prior to working at ASD, Jenni was a Dietary Manager for an Assisted Living Community chain following several years of training and employment in the Culinary Arts field. A self proclaimed "jack of all trades, master of none", she also works as a local Real Estate Agent with BHHS Jones Property Group. Jenni was born and raised in Abingdon, VA and continues to bury her roots there with husband and partner in crime, Brad; her beautiful and crazy smart daughter, Annabel (ASD's youngest volunteer) and two perfect dogs, Zoey and Hank. When she is not at work, she enjoys bike riding on the Creeper Trail or Kayaking on South Holston Lake in the summer and curling up by the fire with her family (or hibernating) in the winter.

Alexandra Davis, Ag. Education Marketing VISTA
Alexandra humbly joins ASD Spring of 2021 as the Agriculture Education Marketing VISTA. She is eager to aide our community by increasing the awareness of our organizations resources, as well as assisting in developing a sustainable long-term funding strategy for our Agriculture Education program. As a lifelong resident of Southwest Virginia, Alexandra brings a lot of love for the Appalachian Mountains to the team. She currently lives in Bristol, Virginia where she is proud to call her new home. She is a graduate of Radford University where she obtained a Bachelor of Science in Communications with a concentration in Public Relations.

Ciara Konhaus, Ag. Education Capacity Building VISTA
Ciara joins ASD as the Agriculture Education Capacity Building VISTA, and is a recent graduate of Appalachian State University in Boone, NC. Her degree is in Sustainable Development with a concentration in Agroecology and Sustainable Agriculture. While in college, she became very passionate about food justice and fighting food insecurity. She helped coordinate the App State Campus Farmers' Market and spent a significant period of time volunteering at a local non-profit, pay-what-you-can restaurant in the area. Ciara is very excited to become a part of the local food system in southwestern, VA.
---
Agroforestry Team

Robin Suggs, Procurement Coordinator
Robin joined the ASD's Agroforestry Program as Procurement Manager in the Spring of 2020. With a rather diverse set of skills in horticulture, community development and the production of non-timber forest products, he hopes to apply his life's experiences in growing relationships with both beginning and seasoned producers of medicinal plant species. The outcome of his work will ensure a sustainable, high quality supply chain for the Appalachian Harvest Herb Hub. Robin was raised in the Piedmont region of North Carolina. Heavily influenced by avid gardeners from both his maternal and paternal lineages, he started tending plants at the ripe old age of 8. Robin went on to receive a degree in Flower and Nursey Crops Technology from the North Carolina State University Agricultural Institute. After pursuing an early life career mostly in ornamental horticulture, Robin relocated from the Piedmont to the Great Smoky Mountains of North Carolina. It was there where he developed an appreciation and respect of the forest, and all its inhabitants, especially those with a tradition of harvest for medicinal use. Just prior to coming onboard with ASD, Robin created, owned and operated MoonBranch Botanicals, a small business dedicated to the production of medical plants native to the region supplying the highest quality bulk botanicals to medicine makers across the US.
---
Groundwork Team

Debbie Browning, Workforce Development Program Manager
Debbie joined ASD in March 2020 to launch the new workforce development program. Prior to joining ASD, she spent almost 20 years as a writer and project manager for ad agencies and in corporate communications, including a Fortune 500. Most recently, she spent five years learning how to be unflappable as a middle-school and high-school Career and Technical Education teacher, and manager of a high school service learning program. Although she loves to travel and see the wonders of the world, she's always very happy to come home to beautiful Southwest Virginia.

Sarah Collie, Groundwork Mentor & Greenhouse Supervisor
Sarah grew up running wild in the woods outside Damascus, Virginia. She could be found foraging for edibles and building top-secret forts with her younger cousins. In 2017 Sarah thru-hiked the Appalachian Trail southbound from Maine. The highlights of that journey were stopping to rest at several farm-to-table hostels along the way, experiencing the gift of fresh produce in a culture of processed snacks and dehydrated meals. Sarah studied English at Milligan College with an emphasis in environmental literature. Inspired by authors who took to farming to be better stewards of the earth, Sarah moved to Washington to work on small organic farms. In three years at Floret Farm she learned plenty about growing flowers, harvesting vegetables, and cultivating community, but the end goal was always to come home. She joins the ASD staff as the Greenhouse Supervisor and Groundwork Mentor, and is excited to grow, eat and celebrate the beautiful bounty of Southwest Virginia with those of us lucky to call this place home.

Alyssa Maring, Groundwork Capacity Building VISTA
Alyssa is originally from northern Virginia and joins ASD as the Groundwork Capacity Building VISTA. Her Khoibu Naga-American heritage provides an Indigenous perspective to ASD. She visited her family in Manipur, India for the first time in July 2019 and has grown a greater appreciation for both natural and built environments. She earned her BS in Geographic Science, with a custom concentration in GIS and Socio-Ecological Change at James Madison University in Harrisonburg, VA. Before ASD, she was a grassroots organizer on and off campus, and helped launch, advocate for, and organize renewable energy and fossil fuel divestment campaigns. She has fieldwork and research experience in ESRI StoryMapping, food access and food sovereignty, environmental justice, and community engagement. She is relocating to Bristol, TN in May 2021 where she will immerse herself in the Appalachian region and learn to call it home. In her free time, she enjoys being outside, hiking, petting her cat Kiki (if she lets her), spending time with friends and family, listening to music, and playing Animal Crossing on her Nintendo Switch.

Hannah Gibbs, Groundwork Sustainability and Equity VISTA
Hannah is joining ASD as the Sustainability and Equity VISTA for the Groundwork team in May of 2021. She is an Eastern Kentucky native, with personal roots in Kentucky, Virginia, and West Virginia and a deep passion for the future of the region. She completed her Bachelor's degree in Environmental Studies at Centre College in 2019, and her Master's of Public Affairs in Sustainable Development at Indiana University in May of 2021. Hannah has worked as a fellow with the Shepherd Higher Education Consortium on Poverty (SHECP) and the Bonner Scholars Program at institutions attempting to address the systemic roots of rural poverty in the United States and how they intersect with the health of the environment. Beyond her professional life, Hannah is an amateur baker, proud member of the Appalachian Writers Community, and an avid Tracy Chapman fan.
---
Appalachian Harvest Staff

Gina Bishop, Appalachian Harvest DOT Compliance Manager
Gina joined the Appalachian Harvest Food Hub team in 2013 as a contractor to ensure that the food hub's fleet of trucksand drivers were in compliance with Department of Transportation regulations. She became a full-time employee in December , 2015 as Administrative Assistant and DOT Compliance Coordinator. Gina was born and raised in Michigan and moved to Duffield, Virginia in 1995 with her husband and 6 children. She enjoys spending time with her family, being outdoors, fishing, reading a good book and enjoying a great cup of coffee.

Roger Garrett , Facility Manager
Roger joined the Appalachian Harvest Food Hub team as Facility Manager in February of 2021. Roger is no stranger to the Appalachian Sustainable Development family. Before earning a bachelor's degree in business from Lincoln Memorial University and joining the Appalachian Harvest team; he spent seven years as a Farm Manager. During his time as a farm manager, he worked closely with Appalachian Harvest as a grower, forming strong relationships with many of the staff and growers.
As an Appalachian native, he feels deeply connected to the region and its people. Roger will be using his talents to further the economic and environmental wellbeing of those who are fortunate enough to call this region home. Outside of work, he enjoys spending time with his numerous pets, traveling with his fiancé Logan, fishing and farming.
Crystal Stafford,
Food Access Coordinator
Crystal was born and raised in Wise County, Virginia and now resides in Scott County, Virginia. In 2020, she was a participant in ASD's Groundwork workforce development program and provided significant leadership fighting food insecurity impacted by COVID-19 as the Food Box Team Leader and Warehouse Associate. Crystal has returned as Food Access Coordinator, to strengthen and reshape ASD's foundational food access program, Healthy Families-Family Farms. Crystal enjoys helping others and has a passion for helping the needy. She has 2 boys, Ezra and Jase who are the light of her life. Crystal enjoys being in the woods, watching horror movies and reading a good book from her small library.

Kevin McNew, Appalachian Harvest Food Hub Assistant
Kevin has been the "guru" at the Appalachian Harvest Food Hub since 2014 and he is always eager to lend a hand. He does a little of everything, helping things run smoothly and efficiently. He resides in Scott County, VA where he operates his own farm, raising Ankole-Watusi cattle. Olé Kev loves his gentle giants. Outside of working, Kevin enjoys anything outdoors.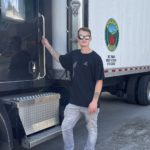 Dylan Johnson, Appalachian Harvest Box Truck Driver
Dylan Johnson is a member of the Groundwork team and has completed programs in Warehouse Distribution and Sustainable Agriculture. Currently, Dylan is currently completing his third Groundwork term while also serving as the Box Truck driver for Appalachian Harvest on local and regional runs. Outside of work, Dylan spends his time being a great dad to his daughter, Paisley, and on his motorcycle in and around his home in Gate City, Virginia.

Jason Matheison, Class A CDL Driver
Jason Matheison is a Class A CDL driver. Jason joins us as driver and will be primarily helping us deliver produce to our north locations. Jason lives in Big Stone Gap with his wife, daughter and two stepsons. He enjoys spending time with his family, anything outdoors and working on his Jeep.

Matthew Foster, Class A CDL Driver
Matthew Foster is a class A CDL driver and has been with AH since April of 2020. He currently resides in Lee County with his wife and children. Mathew loves anything outdoors.