Meet Our Staff

KATHLYN TERRY BAKER, CHIEF EXECUTIVE OFFICER
Kathlyn became Chief Executive Officer of Appalachian Sustainable Development in 2011 after serving for 5 years as its first Business Operations Manager.

MORGAN BRADLEY, AGRICULTURE EDUCATION PROGRAM MANAGER
Morgan manages the Grow Your Own beginning farmer program and the Learning Landscapes school/after school garden program. She is an Iowa native and has worked in food and agriculture related ventures her entire life.

DEBBIE BROWNING, MARKETING MANAGER
Debbie joined ASD in March 2020 to launch the new workforce development program. Prior to joining ASD, she spent almost 20 years as a writer and project manager for ad agencies and in corporate communications, including a Fortune 500.

KATIE COMMENDER, AGROFORESTRY PROGRAM DIRECTOR
Katie started her agroforestry career in 2012 as ASD's Agroforestry AmeriCorps VISTA, where she trained hundreds of beginning forest farmers and developed a multifunctional riparian forest buffer program with U.S. Fish and Wildlife Service.

SYLVIA CRUM, DIRECTOR OF COMMUNICATIONS AND DEVELOPMENT
Originally from Chicago, Sylvia moved to the region in 1994. Over the years, she has been involved with ASD in a variety of ways. She has been a board member, donor and an ASD volunteer. In her current position since 2013, Sylvia is responsible for ASD's development and communication's efforts.

LINDSEY FELTY, OUTREACH MANAGER
Lindsey is the Outreach Manager who manages work in Buchanan County, VA and Tazewell County, VA. She also manages the Virginia Fresh Match Program and the Local Food Guide. Her work touches all programs across ASD.

HANNAH G., WORKFORCE DEVELOPMENT PROGRAM MANAGER
Hannah is the Workforce Development Program Manager. She joined ASD as an Americorp VISTA in 2021 and has continued as part of the Groundwork staff ever since.

D. GABBERT, TAZEWELLL GROUNDWORK FARM SUPERVISOR/MENTOR
David joined ASD in December 2021 as the Tazewell Groundwork Farm Supervisor & Mentor. He has a green thumb and a passion for growing. He enjoys being outdoors and has interests in sustainable farming and good stewardship practices.

RANDI G., GROUNDWORK VISTA
Randi joins Appalachian Sustainable Development through the Americorps VISTA program. She has an extensive background volunteering and work experience in the environmental field. As an Appalachian native, she is committed to the region and excited to work with ASD in an effort to elevate the region through her service.


ROGER GARRETT, FACILITY MANAGER
Roger joined the Appalachian Harvest Food Hub team as Facility Manager in February of 2021. Roger is no stranger to the Appalachian Sustainable Development family. Before earning a bachelor's degree in business from Lincoln Memorial University and joining the Appalachian Harvest team;

TISHA GRIFFIS, GRANT ACCOUNTANT
Tisha joined ASD in Jan 2022 as the Grant Accountant. She holds a B.B.A. from East Tennessee State University with a concentration in Finance and Accounting. She comes to ASD with over 15 years of accounting and finance experience throughout multiple business industries.
TORI JESSEE, GROUNDWORK PERSONAL AND PROFESSIONAL DEVELOPMENT MANAGER
Tori joined ASD in March 2023 as the Groundwork Personal and Professional Development Manager. Tori resides in Wise, VA with her small family.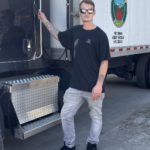 DYLAN JOHNSON, APPALACHIAN HARVEST BOX TRUCK DRIVER
Dylan Johnson is a member of the Groundwork team and has completed programs in Warehouse Distribution and Sustainable Agriculture.

SHANNON JOYCE, HERB HUB ASSOCIATE
Originally from Northern California, Shannon grew up raising poultry, gardening, and working with horses. In 2021, Shannon went to Oklahoma State Horse Shoeing School and works as a farrier in her free time.

MICHAEL KLARMAN, PRODUCER PATHWAY MANAGER
Michael joined ASD in November of 2021. Michael served in the United States Marine Corps and was retired in 2015. He has continued serving veterans through various organizations and is excited and eager to watch the veteran program with ASD grow!

CHELSEA LEE, OPERATIONS MANAGER
Chelsea is the Operations Manager for ASD who started out as a volunteer in 2017 after relocating from Austin, TX. She attended the University of Texas and earned a Bachelor's degree of Natural Science.

DELLA MCGUIRE, GRANT WRITER
Della was a lifelong nomad until setting down roots in downtown Bristol when her son started school. The transition from migratory living to home ownership sprouted her obsession with gardening.

ADAM PENDLETON, APPALACHIAN HARVEST GENERAL MANAGER
Adam is a Lee County, Virginia native and began working at the Appalachian Harvest Food Hub in 2014. He ensures that the facility is running efficiently, orders are processed correctly and trucks loaded accurately while also providing technical assistance to farmers and helping supervise support staff and volunteers.

KEVIN MCNEW, APPALACHIAN HARVEST FOOD HUB ASSISTANT
Kevin has been the "guru" at the Appalachian Harvest Food Hub since 2014 and he is always eager to lend a hand. He does a little of everything, helping things run smoothly and efficiently.

ROBIN ROBBINS, SENIOR DIRECTOR OF FOOD SAFETY & SECURITY
Robin joined ASD as the Appalachian Harvest Food Hub Marketer in September 2005. Prior to joining ASD, she was a public school teacher in the Lee Countypublic school system, as well as an advocate for children with special needs.

JENNI ROOP, DIRECTOR OF AGRICULTURE EDUCATION
Jenni joined ASD in 2017 and became the Director of Agriculture Education in 2022. She has performed various job duties in her time at ASD to include website management, marketing and communications, and program management.

ROBIN SUGGS, PROCUREMENT MANAGER
Robin joined the ASD's Agroforestry Program as Procurement Manager in the Spring of 2020. With a rather diverse set of skills in horticulture, community development and the production of non-timber forest products, he hopes to apply his life's experiences in growing relationships with both beginning and seasoned producers of medicinal plant species.

JOSH THOMPSON, MANAGER OF SOCIAL ENTERPRISE
Josh resides in Tazewell, VA and joined ASD in 2021 as the Manager of Social Enterprise. Josh studied Political Science at the University of Tennessee and is a certified Peer Recovery Specialist.

PERRY E. THOMPSON, GROUNDWORK COMMERCIAL KITCHEN MANAGER & COHORT SUPERVISOR
Perry E. Thompson grew up on a dairy farm in Franklin County, PA. Many of his childhood weekends were spent with his Grandparents whom lived and worked in the State Capitol—Harrisburg.

EMILIE TWEARDY, AGROFORESTER
Emilie comes to ASD with a background of farming, teaching, and adventuring. She grew up in Northern Minnesota, and moved with her family to Virginia in 2015.

ANGIE VANOVER, CHIEF OPERATIONS OFFICER
Angie spent most of her career in telecommunications and the call center industry as a Director – specializing in leadership, financial management and reporting, operations, business analysis and human resources.
STESHA WARREN, AGROFORESTER
Stesha joined ASD in 2022 as our Agroforester to provide technical assistance to landowners and assist in developing the Train the Trainer (TtT) program.

BRITTANY WOODBY, REGIONAL SALES AND MARKETING MANAGER
Brittany joined the Appalachian Sustainable Development family in July of 2021 as an Account Manager for our Appalachian Harvest Farm to School program. Her focused efforts will be increasing purchases from schools, child care centers, and community kitchens.

LISA WORLEY, GROUNDWORK GARDEN SUPERVISOR/MENTOR
Lisa Worley joined ASD in February as the Abingdon Groundwork GardenSupervisor/Mentor. Lisa was first introduced to ASD when she joined our Grow Your Own (GYO) program working to help till GYO participant gardens.