Part 3 of our journey took us to visit Herb and Janet "the Canning Queen" McClelland and Susan Jewel, who was eager to expand past her usual few garden plants – with great success thanks to the Grow Your Own program. This season has been a wonderful success full of smiling faces, full bellies, and a plentiful crop, despite weather, pest and other challenges.
7/21/2023
Janet's daughter, Terra, is in her second year of Grow Your Own and invited her mom and stepdad Herb to join this time around. She gave her mother the nickname "the Canning Queen" and… she wasn't kidding. Visiting Herb and Janet's space was such a blast! Herb has turned their yard into both a beautiful and productive space – digging up new garden plots on all sides of their home. They have a cucumber plant growing up the side of their side porch, and it adds this beautiful, warm feeling to the home. I love their gardening philosophy – let the volunteers grow! See what happens. Zinnias and dill are scattered around some of their garden beds because of this, and it only adds to the beauty, practicality, and quirkiness of the space – not to mention provides pollen for native pollinators and host plants for some beautiful butterflies! Their harvests have been massive so far this year, with cabbages over a foot wide and so many beans canned. Back to Janet – Herb took us into their cellar/storage area and, wow, the variety, quality, and honestly, beauty of their canned goods was amazing to see. Janet is indeed the Canning Queen, though even she admits she learned something in our Grow Your Own Food Preservation class on canning!
In addition to beautiful gardens, beautifully canned goods, and a very warm welcome, Herb was kind enough to show us some of his fossil collection and antique farming tools. Before I left, I said I'd be back just to hang out and learn from them. I tend to find that people interested in gardens, who care to preserve their food and hard work, are the most interesting. The thing that starts a connection is our own connection to the land, but it grows into a connection between people, a friendship, and a community.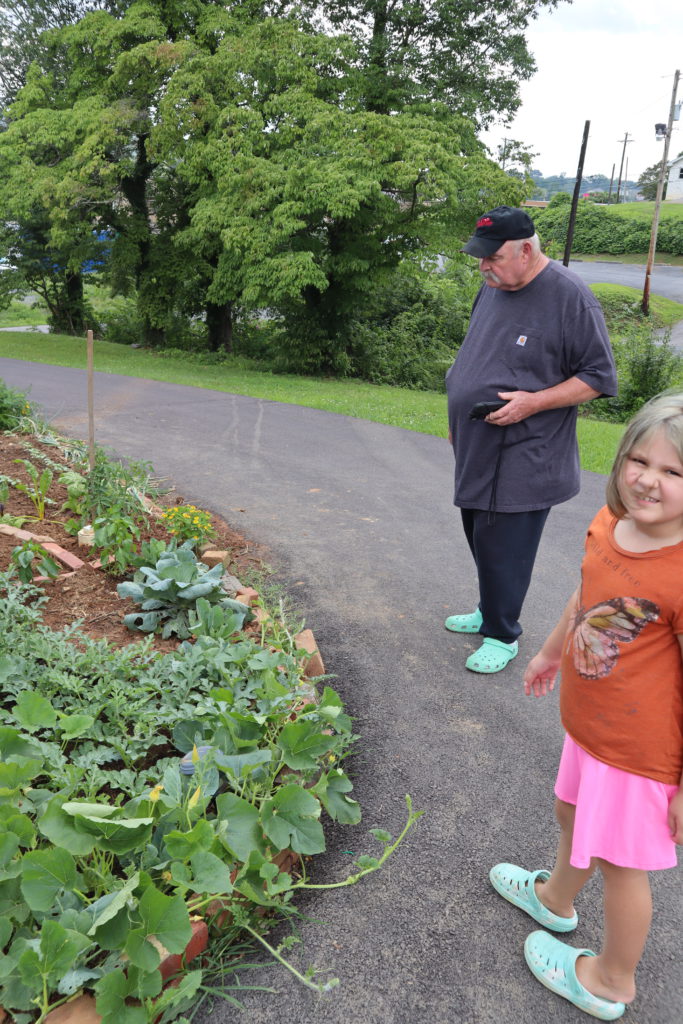 7/23/2023
Susan has grown a few plants in the past – maybe a couple tomatoes, a pepper plant, the basics in containers. This year, though, with her participation in Grow Your Own, Susan has definitely expanded her garden! The thing I admire most about Susan is her innovation – she may have laughed about it, but using crutches as posts and old filing cabinets as garden containers is so cool! Instead of spending unnecessarily, Susan found tools she had in her own space to make her garden work. Having run a dog kennel service in the past, her fencing for that is now leaned as a trellis for her cucumbers and pumpkins. An unused filing cabinet's drawers are home to greens. She ran down a farmer to obtain large basins to grow larger plants in, and gets manure from a horse farm nearby. Truly, I am inspired.
Susan hasn't had much in the way of pest issues, but herbs have been hard to grow. Who are they easy for, right? We talked about getting transplants of herbs in the future because the seeds can be so finicky, and I asked what we could improve in the program. "I'm just tickled," Susan said, just happy to be growing so much on her own!
Susan also has two pigs and a goat, Huckleberry. I just have to mention Huckleberry because he was a funny dude. He didn't want to let his visitors leave! He guarded the gate so he could keep getting pets and snacks straight from the hand.
Most Grow Your Own participants are women, and Bethany Sandefur had a quote on the wall that I feel is very appropriate because of this: "Women belong in all places where decisions are being made. It shouldn't be that women are the exception." -RBG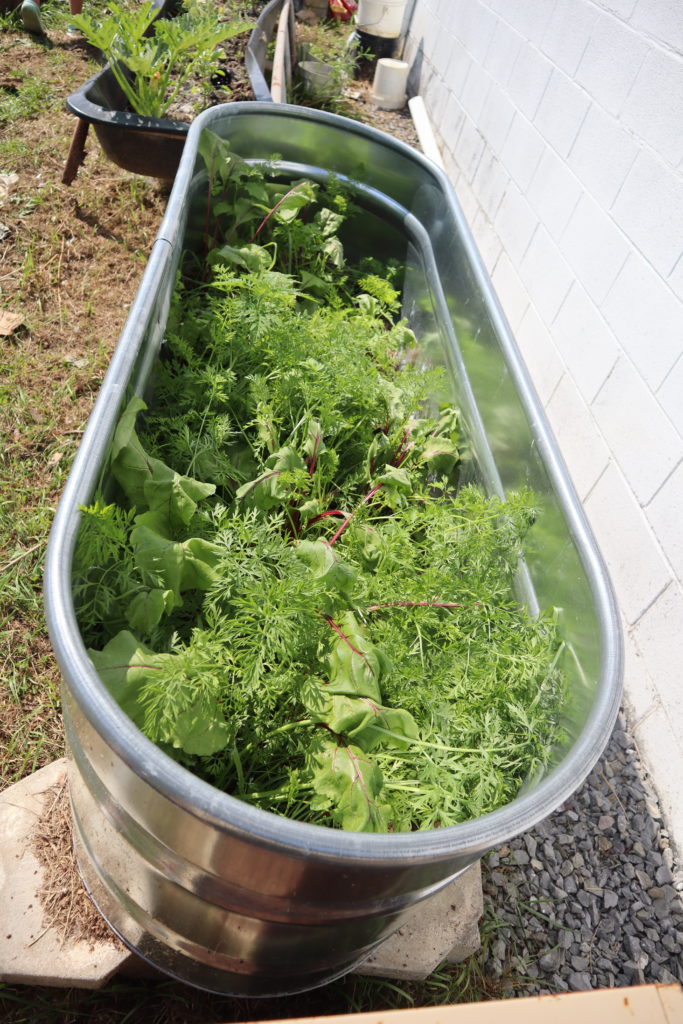 ---
---
©2023 Appalachian Sustainable Development. All rights reserved.