On August 24th, The Appalachian Regional Commission (ARC), the U.S. Economic Development Administration (EDA), and the U.S. Department of Labor's Employment and Training Administration announced a $38.8 million POWER investment to grow the economy in the nation's coal-impacted communities. This announcement, in Huntington West Virginia, named Appalachian Sustainable Development (ASD) as one of 29 recipients. The Partnerships for Opportunity and Workforce and Economic Revitalization (POWER) Initiative awards will strengthen economies and workforce of communities and regions that have been negatively affected by changes in the coal economy.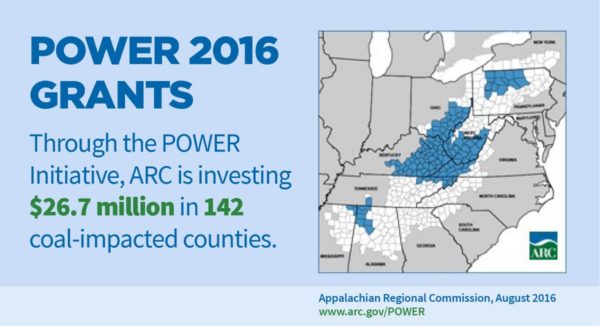 The POWER initiative funds to ASD will support a Central Appalachian Food Enterprise Corridor. Appalachian Sustainable Development will act as the lead agency and will work with Athens, OH-based Appalachian Center for Economic Networks (ACEnet) to pass through much of the funding to local and regional partners. The 5-state, the 43-county collaboration will develop a coordinated local foods distribution network throughout Central Appalachia that will connect established and emerging producers of whole produce, value-added products and forest botanicals in Ohio, West Virginia, Tennessee, Southwest Virginia, and Eastern Kentucky to wholesale markets. The ARC award will support planning, partner convening, and capacity building, as well as production and processing equipment, supplies, and distribution and labor costs, and will be supported by matching funding from the Just Transition Fund and CoBank. The Food Enterprise Corridor will act as regional economic driver.
ASD Executive Director, Kathlyn Terry, who participated in the event in Huntington, WV, shared her enthusiasm for the project. "We are so honored to receive this support. Over the years we have seen that to truly help rural communities with limited resources, we have to connect with regional partners. Those connections help us expand access to markets and identify more ways for families to earn a living."
U.S. Assistant Secretary of Commerce for Economic Development, Jay Williams explained, "The projects and awards we are here to celebrate today help communities persevere and flourish as they deal with the challenges presented by the coal economy. POWER invests in jobs and workers, and develops and implements strategies and projects that can help transform these respective regions, states, and our nation."
ARC Federal Co-Chair Earl F. Gohl said, "Appalachian communities are actively engaged in creating diverse local economies that are resilient, sustainable, and strong. Local leaders and entrepreneurs will use these investments to develop, direct, and implement economic diversification initiatives which will have a long-lasting impact."
The POWER Initiative is a multi-agency effort aligning and targeting federal economic and workforce development resources to communities and workers that have been affected by job losses in coal mining, coal power plant operations, and coal-related supply chain industries due to the changing economics of America's energy production. The POWER Initiative is part of President Obama's POWER+ Plan, a broader set of investments in coal-impacted communities, workers, and coal technology proposed in the president's FY 2017 budget.
Appalachian Sustainable Development is dedicated to its mission to transition Appalachia to a more resilient economy and a healthier population by supporting local agriculture, exploring new economic opportunities and connecting people with healthy food. Since 1995, ASD has been serving more than 15 counties in northeast Tennessee and southwest Virginia.
---
---
©2016 Appalachian Sustainable Development. All rights reserved.