This is my second and final blog post for the F.A.R.M. internship on Harbin Hill Farms in Mountain City. Since my first blog, I've started selling at the King Street Market in Boone, NC on Tuesdays.  It makes for a long day, but it has allowed me to close the loop on what a market farmer is all about. Growing a variety of crops and selling them at a local market.
And that's exactly what Richard, my mentor, has been doing for four years. Richard is very attentive to his interns goals and future plans. He says, "If you let the interns choose work that moves them toward one of their long term goals, then they are naturally motivated and engaged." So Richard encouraged my interest in growing MicroGreens, and allowing me to sell them at the Tuesday market.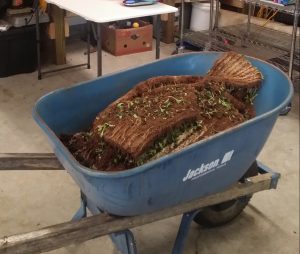 I've been very fortunate to team up with another intern, Josh, here at Harbin Hills to go through the the start up process with.
We now have developed our own product brands, and markets, and we continue to collaborate. Josh got a faster start, and is growing more products, than I. We both grow Sunflower and Pea Shoots, but Josh has experimented with a number of Brassicas, and grows several weekly to add variety to his offerings. To avoid tripping over each other, while we are still refining our production processes I target my main harvest for the Tuesday market and Josh is focused on the Saturday markets.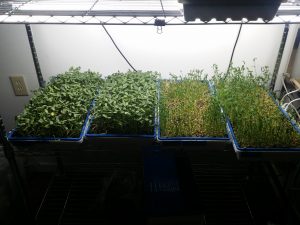 We've grown using a variety of organic certified medias, and we are still trying to find the right combination of media and amendments, that consistently produce a great crop, is sustainable, and is cost effective. Currently we are working with CocoCoir, micronized Azomite, worm castings, and fish emulsion. Our best results occurred early on with a Coast of Maine Potting soil, but that is no longer available (i.e. back ordered- apparently NOT sustainable).
I've been doing my own MicroGreens for about three (3) months.
I've been experimenting with a wicking system bottom watering approach, which I am just starting to get my head around. My week to week results have not gotten to an acceptable level of consistency yet, so I'm currently growing two 10″ × 20″ trays each of the Sun Flower and Pea shoots. I hope to be able to add wheat grass and radish to my product line soon, but I'm taking it slow for now. With any luck I'll eventually ramp up for Boone's Winter Market, which starts in November.
Joe Traylor, 2019 FARM Intern
Harbin Hill Farm, Mountain City, TN
---
---
©2019 Appalachian Sustainable Development. All rights reserved.