#wolfsintern #day123 Tuesdays are market days and I love getting to hang out with Becky at the market on Tuesdays. We get to chat and catch up, and I get to visit with some of my other market farmer buddies. It's also rewarding to watch people purchase what we've worked so hard to grow and flattering that we have such loyal customers that come back each week. I love seeing people I know at the market at seeing their faces light up when they learn that I've grown what they are about to purchase, it's these connections that I turned to agriculture for in the first place.
#wolfsintern #day124 This morning Steve and I worked on the tomatoes, a little bit of harvesting, weeding and taming. We had a huge rain following a long drought so a ton of our tomatoes busted which meant we needed to clean all those out seeing as they were just going to rot anyway. Speaking of rotting, blight has officially hit us bad. It's always so sad watching the soil borne disease consume our beautiful plants from the bottom up. But our tomatoes will survive for a bit longer and we will savor them that much more.
#wolfsintern #day125 It's time to pull the rest of our garlic! Steve is a good sport and lets me take lots of pictures and videos which I appreciate. Most of the time their just for my personal records anyway. Pulling the garlic early in the morning means getting totally soaked with dew and being slapped in the face with wet grass seed fairly frequently, but I'd rather take that any day than live without garlic! Well, maybe these garlics we harvested… they actually didn't turn out quite like we wanted. A little mushy and underdeveloped. This is another beautiful lesson I've learned with the Wolf's though, to take disappointments and failed crops with grace and a positive attitude. We keep what we can, plan accordingly for next year, and move right along to the next!
#wolfsintern #day126 I only came out to work on the farm for an hour or so, harvesting tomatoes for market tomorrow, before Becky, Steve and I headed to a little farmers round-table gathering at Justin's farm and cidery. How amazing their place is!! I was totally taken away by how smart Justin is, how wonderful his wife was and how great spending time and sharing food was with some of our fellow farmers. Justin's pulled pork was to die for and I even scored a cucumber salad recipe from Tom Mcmullen. So thankful for and proud of the community I live in.
#wolfsintern #day128 I didn't go to the farm today but I do want to put it on record that almost all my meals are almost entirely local and quite a bit of it I have grown myself. This is HUGE and I am feeling on top of the world about it. It has been a goal of mine for a few years now, to be eating 100% local and mostly food I've grown myself. I am real with myself when it comes to this goal, I knew going in that it would take me a few years. Well I am finally seeing that goal manifesting and it just about brings me to tears. Not only am I manifesting this goal I made a few years ago, but in the best way possible. The Wolf's have educated, supported, and held me accountable in the quality of the food I grow and consume, which I am extremely grateful for because we could all use some accountability.
#wolfsintern #day130 This morning we harvested tomatoes, admired our rainbow corn, said hello to our garden friend the Prey Mantis, and harvested another row of taters. Once Steve left for work, I hopped over to my garden and pull all of my onions. Holy moly, I've got enough onions to feed myself all winter! Another step toward manifesting another long term goal of mine; to survive the off season on foods I've grown and preserved. I'll be sure to send some home to my parents and sister since they helped plant these, they'll be tickled 🙂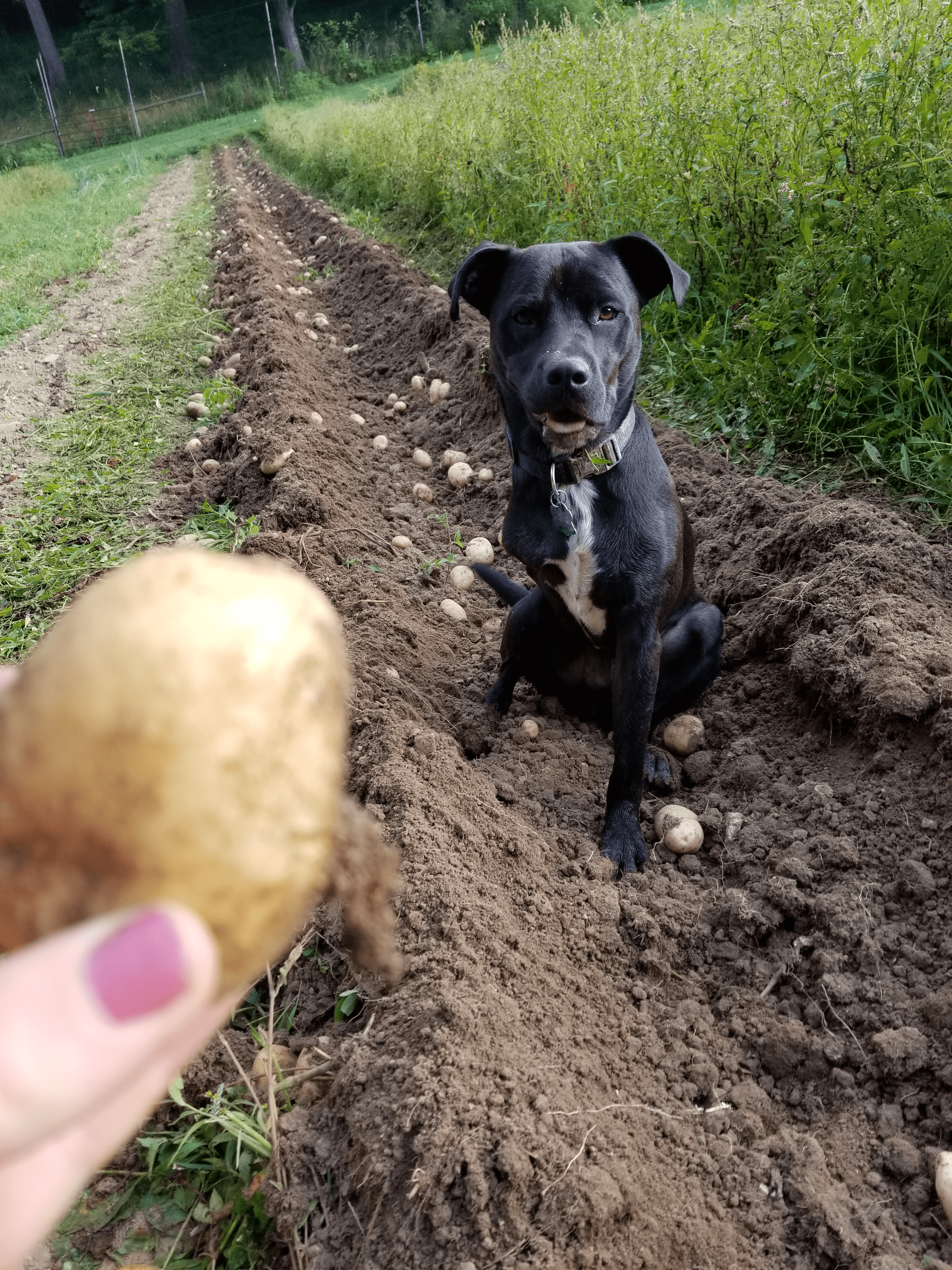 #wolfsintern #day131 Apples are almost ready! The season is flying by, I can't believe how fast they've grown. It seems like yesterday I was taking pictures of their blooms. Everytime I watch a new plant from the beginning of the season to the end I gain a deeper and deeper sense of gratitude for Mother Earth and all She provides, the millions upon millions of microscopic miracles that happen right under our noses that abundantly provide for us and our families. It is truly amazing. We spent the morning carefully taking apart the blueberry netting, neatly folding it and tucking it away for next season. Steve said that the netting helped tremendously, and that now the blueberry plants are growing like crazy and he will have to do some research on properly trimming them which he hadn't needed to do before. Resourcefulness and ingenuity served us well.
#wolfsintern #day132 The seasons are changing, so it is time to get our hoop house back in shape for it's next round of fall veggies. This means harvesting the rest of the carrots and beets and pulling as many weeds as possible. Steve and I got most everything cleaned out and he went back later to till and make rows.
Samantha (Sunni) Balta, 2019 FARM Intern
Wolf's Farm, Meadowview, VA
---
---
©2019 Appalachian Sustainable Development. All rights reserved.