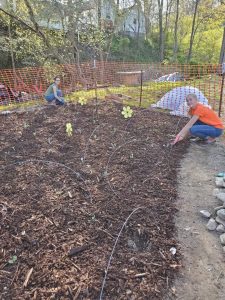 Working with my mentors Debbie and Bob has been an amazing experience so far. I am very thankful to be working with such wonderful people. They have a lot of knowledge to share with me. I didn't realize how much work goes into running an organic farm or finding the perfect niche.
Debbie and Bob have found their local niche not only in their chosen crops of pumpkins and watermelons, but also in their certification of naturally grown. Finding the perfect niche for an area is very important to having a successful business. However, a niche isn't the only planning you have to do.
Having an organic garden requires you look at all the little details you normally wouldn't look at with a regular garden. To be able to be fully organic you have to have organic seeds, fertilizer, compost, etc. On the Brown's farm we use many different organic compost mediums such as hay, mulch, and composted manure. We are able to use this manure because we use organic feeds for the goats and chickens. If we didn't use organic feeds the composted manure would no longer be made from organic compounds and we couldn't use it.
Along with being certified naturally grown, Brown's Farm also uses a technique called intensive gardening. This means growing a lot of plants in a small space thus using a limited space for efficiently. I charted out the garden taking into consideration the final plant width along with walking space to use up as little space as possible. I also organized it according to plant needs of more or less sun. We are currently implementing the garden plan.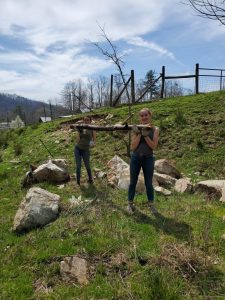 When it comes down to being naturally grown, our small town Mountain City is very rural. While rural has many advantages, it is somewhat a disadvantage to the Brown's niche in that the town isn't very equipped with organic supplies. Debbie and Bob have found great organic suppliers but many are about an hour drive. The farming life is hard but going organic in such a small community is even harder. The Brown's Farm is doing it with much success.
Organic farming is a time consuming job and you must have a real passion for this job like Debbie and Bob do. I'm excited to continue learning more about the organic farming life. Although the Brown's farm is more than just an organic farm they also raise meat goats, chickens, and honey bees. I hope to learn about these as well. I have had an extraordinary time and am excited to continue my work with the Brown's farm. Thank you for choosing me for this program.
Kiely Roush, 2020 FARM Intern
Brown's Farm, Mountain City, TN
---
---
©2020 Appalachian Sustainable Development. All rights reserved.