FOR IMMEDIATE RELEASE 4/5/2022
Contact: Jenni Roop
Agriculture Education Communications Manager
276-608-8972
jroop@asdevelop.org
https://asdevelop.org/fieldschool
DUFFIELD, Va. – Appalachian Sustainable Development (ASD), is now recruiting students for the 2022 Summer Field School. Students will explore production methods and farm enterprises that are thriving in SWVA to help build the knowledge, networks and confidence for planning a farm operation to fit their land and business goals. No experience is necessary. Beginning farmers, gardeners and military veterans are encouraged to apply. Registration is free and required: https://asdevelop.org/fieldschool. Questions should be directed to Jenni Roop, Agriculture Education Communications Manager at jroop@asdevelop.org.
To provide emerging farmers with more tools for success, ASD's Field School is a beginning farmer training program that provides students with an overview of small-scale farming. ASD's Field School offers two sessions, taught by 20+ farmers and agricultural professionals at various locations to highlight the opportunities available.
The 2022 Summer Field School has 8 on-farm classes from May 2022 to August 2022 from 5:30pm to 7:30pm. Students will visit various farms including: Creative Seeds Farm, Kelly Ridge Farms, Valor Valley Farm, TNT Farm n Greenhouse, Appalachian Cove Forest Farm and Homestead, Mcmullen Urban Homestead, Fungirl Farms and Tumbling Creek Cider Company. A detailed list of Summer Field School classes can be found at: https://asdevelop.org/fieldschool.
The Winter Business Intensive which runs from November 2022 to February2023 consists of 8 classes where students will write business, financial and marketing plans for their farm. Classes are held on the first and third Thursday of the month and ASD will begin recruitment September 2022.
Jenni Roop, ASD's Agriculture Education Communications Manager explains, "This program was so successful last year that we knew we had to offer it again. It helps prepare a regional workforce of farmers and food producers to have successful careers in agriculture as a result of this experience and training. Also, we can now also give back to military veterans by providing them with this training and the specific support they may need. To meet the growing demand for local food, we need more farmers. We feel the best way to prepare a variety of new farmers for success is to provide them with practical tools and training and a strong peer-to-peer support system."
About ASD's Field School
In 2021, Appalachian Sustainable Development collaborated with Appalachian RC&D Council in northeast Tennessee to launch southwest Virginia's first annual Field School as part of the expanded offerings of its Agriculture Education programs. Sessions will include business planning, finances and marketing all geared toward helping beginning farmers create sustainable and profitable small farms. The Field School is made up of two sessions: Summer Field School and the Winter Business Intensive. The 2022 program is funded by The U.S. Department of Agriculture's Office of Partnerships and Public Engagement (OPPE) with a focus on serving the specific needs of military veterans in Central Appalachia.
About Appalachian Sustainable Development (ASD)
Living Better. Locally. It's what drives ASD's commitment to propel its mission to build a thriving regional food and agriculture system that creates healthy communities, respects the planet, and cultivates profitable opportunities for Appalachians. Since 1995, ASD has been working in Central Appalachia, providing hope, and making a difference for the people who call the region home. What began as opportunities for struggling tobacco farmers to grow fruits and vegetables have become lasting solutions to regional challenges that impact economic development, workforce development, food access, health, and wellness. Over the years, ASD has expanded its reach from northeast TN and southwest VA to include partners in WV, OH and KY, enabling the organization to bring resources back to the region. For more information, visit: https://asdevelop.org.
# # #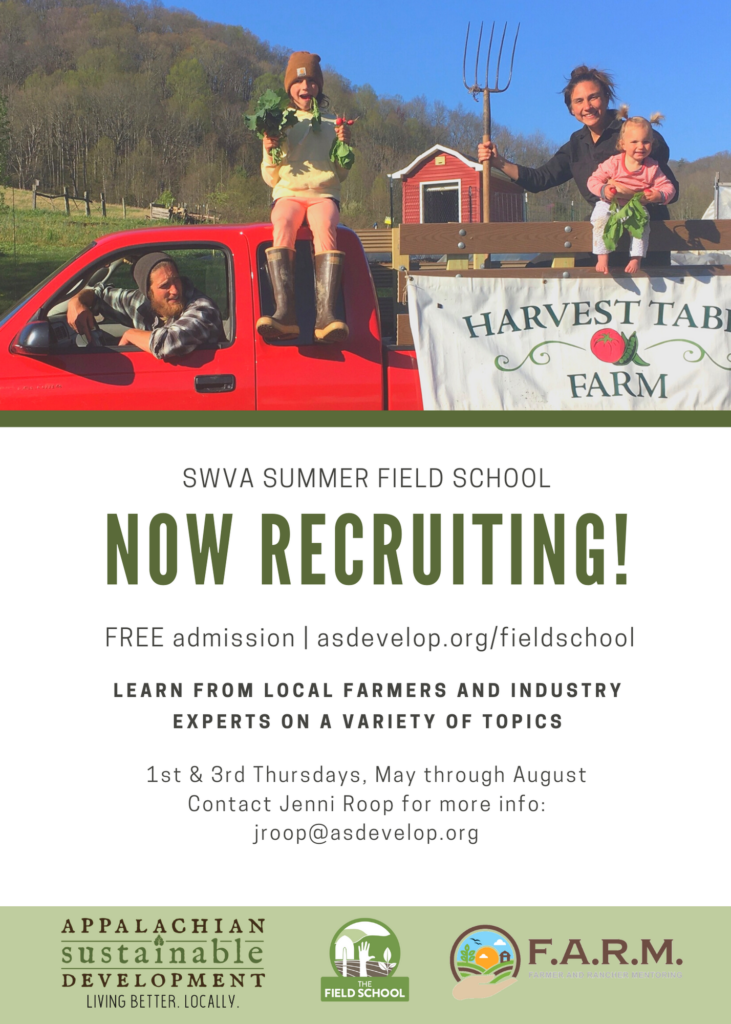 ---
---
©2022 Appalachian Sustainable Development. All rights reserved.