My covered back porch is one of my favorite places.
Part of a modest, stick built house on a 15 acre farm, my house has 2 porches; front and back. My back porch is where I often sit, it's much quieter and more private there. It's a welcoming space with a repurposed lumber farm table, old wooden chairs and cheerful, repainted metal chairs. It's an easy space to sit a spell. From this peaceful place I can admire my 13 acre hay field, the lonely swing set that my children once used and a clothes line supporting a twisted wisteria tree at one end. On the hottest driest days of summer, I watch the grasshoppers devour the Hosta varieties that make up the Mary Rutledge flower bed (named after one of the finest women of color I have ever known).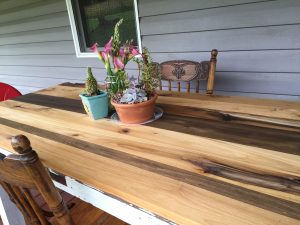 My back porch is a wonderfully quiet place where I can sit and be quiet and think. Over the years, during my time on the back porch, I have come to realize that I've fallen in love with Central Appalachia. I've also fallen in love with the hard-working farmers I've met and this little farm…it is my heart, a place I yearn for when traveling for too long.
After watching honey bees visit clover and daisies, I poured myself another glass of red wine to continue my pondering. I recalled just exactly how I got here. Long before I had children, I spent several summers visiting the region with my husband. He had family in northeast TN and we would plan trips to visit his Mamaw, aunts and uncles for birthdays, special events and family reunions. Often when we were here, we made time to drive the narrow dirt roads that would wind up in the hollers of Greene County, TN. On those drives, I wanted to see everything from dairy farms to tobacco fields where families worked side by side. I wanted to pick wild blackberries and talk to folks that were born and raised here. I met generational farm families who were proud and had the desire to stay in a region plagued with chronic poverty and lack of infrastructure and investment.
It was during those many visits that I fell in love with the rugged landscape, the steep terrain and the authentic people.
Originally from Chicago, in 1994 I became a Yankee transplanted to Bristol TN. My husband and I arrived here and rented a mobile home in the middle of nowhere, at the foothills of the Appalachian Mountains, just outside of Bristol in a country community called "Hickory Tree". People told me stories about how dangerous Hickory Tree was, but I never felt unsafe or unwelcome there. Neighbors would stop by unannounced bringing us apples or tomatoes from their gardens. After several visits, I eventually figured out that they were probably checking us out to be sure they could tolerate us Yankees. I have to say the year I lived in that little trailer was a happy and fun year for me. I learned a lot about myself and about the folks that accepted us into their little community.
After that year, we moved into town, bought a brick ranch and welcomed our son into the world. I was smitten with the region and began trying to figure out what I could do to make a difference here. When my son was just a toddler, I heard about ASD and I began volunteering and even working as a contractor with ASD one summer. After living in town for about three years, I drove past a small farm that was for sale in Washington County Virginia. After the first look I knew this would soon be our next home and it's still mine today. My children are all grown now and life has taken twists and turns.
This year marks my 5th year as Communications and Development Director at ASD and I count my blessings every day. I love my job, my colleagues and most importantly the hard working men and women we serve. After all these years I still have an immense passion for ASD's work and our mission and I'm committed to find ways to make a difference.
Contact The Director of Communications and Development

Sylvia Crum
Director of Communications and Development
---
---
©2018 Appalachian Sustainable Development. All rights reserved.