FOR IMMEDIATE RELEASE 09/20/2022
Contact: Sylvia Crum
Director of Communications and Development
https://asdevelop.org
scrum@asdevelop.org
276-623-1121
276-791-5572 (cell)
Duffield, VA, 09/20/2022 – Appalachian Sustainable Development (ASD) has received a multi-year funding commitment in the amount of $4,000 per year for at least three years from the JA Street Family Foundation to help support school gardens in Buchanan County, Virginia. The foundation is providing this support to honor the memory of Frankie Mae and Joe Street. A check presentation will occur during an open house at Twin Valley Elementary/Middle school, 9017 Riverside Dr., Oakwood, VA 24631, on Thursday, October 6 at 1pm. The public is invited to attend. A garden tour and boxed lunches (while supplies last) will be provided.
As part of ASD's Farm to School program expansion into Buchanan County, raised bed school gardens located at Hurley, Twin Valley, Council and Riverview Elementary/Middle Schools were established in early 2021 and have provided students with kale, onions, radishes and more. Garden maintenance has been managed by the schools with help from the Boys & Girls Club of Central Appalachia that provides labor when children work in the gardens in after school programs.
Funding to establish raised bed school gardens and to provide plants, seeds, supplies, education and some training was provided by Thompson Charitable Foundation (TCF). COVID negatively impacted the garden's progress, but despite these challenges, all collaborators and stakeholders are looking to a more sustainable program in the future. Funding from the JA Street Family Foundation will help make that a reality.
Jim Street comments, "I'm a Buchanan County native and donating these funds is important. We want to help ASD find garden partners, probably high school students interested in agriculture, to manage and mentor the younger school kids. Our support will provide students with a stipend to visit schools on a weekly or bi-weekly basis to help each site be more successful. Our family foundation was created to honor our parents who had gardens, harvested their own home grown produce and canned their whole lives while living in Dry Fork. Barb's dad was also a gardener, so this project is a real part of our family history."
As garden interest grew, ASD saw the need to create a stronger educational experience by getting more stakeholders involved to help ensure success, so ASD began seeking resources to fund 'on the ground help' with weekly or bi-weekly teachings at each site. To strengthen the effort in 2022 and beyond, ASD has partnered with the Independent Living Skills class from the Buchanan County Career and Technology Learning Center that will visit sites on a regular basis. Students and job coaches will conduct maintenance tasks to ensure production increases so that more children will have access to fresh, healthy food they grow themselves. The gardens will also be supported with age-appropriate education by featuring ASD's Practically Perfect ™ brand that promotes fresh, healthy food consumption, reduces food waste and engages elementary and middle school aged children in growing and raising their food.
About Appalachian Sustainable Development (ASD)
Living Better. Locally. Its what drives ASD's commitment to propel its mission to build a thriving regional food and agriculture system that creates healthy communities, respects the planet, and cultivates profitable opportunities for Appalachians. Since 1995, ASD has been working in Central Appalachia, providing hope, and making a difference for the people who call the region home. What began as opportunities for struggling tobacco farmers to grow fruits and vegetables have become lasting solutions to regional challenges that impact economic development, workforce development, food access, health, and wellness. Over the years, ASD has expanded its reach from northeast TN and southwest VA to include partners in WV, OH and KY, enabling the organization to bring resources back to the region. For more information, visit https://asdevelop.org.
# # #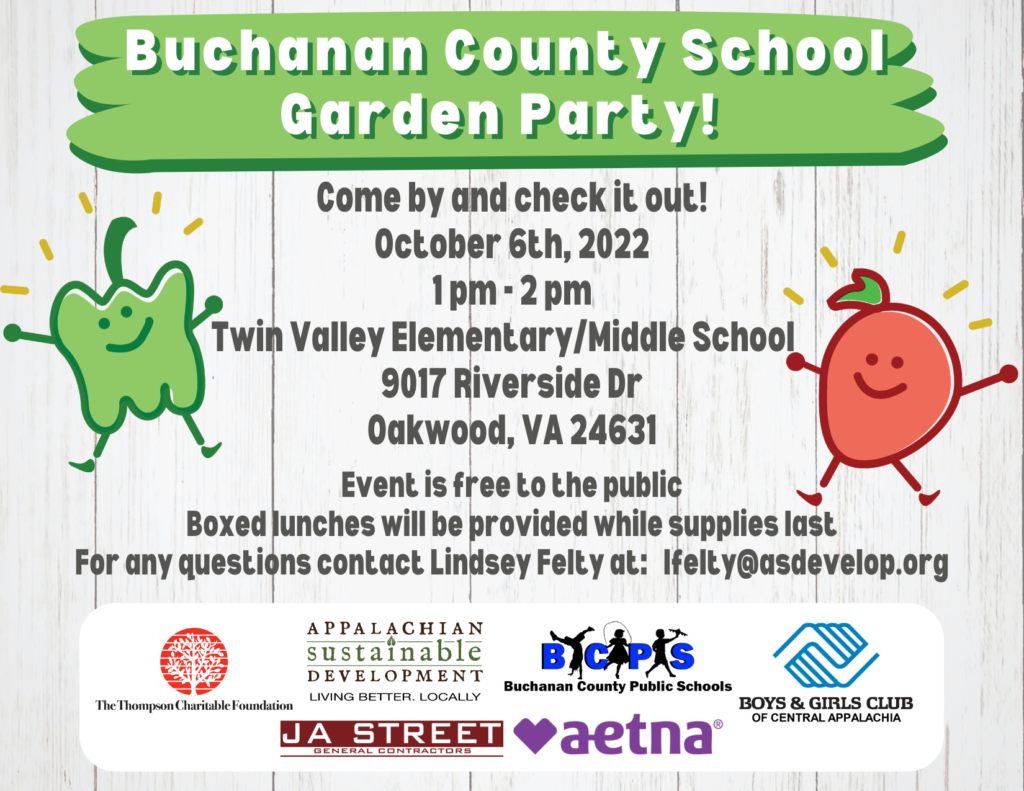 ---
---
©2022 Appalachian Sustainable Development. All rights reserved.