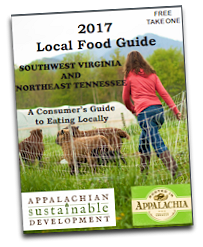 Where do you find your food?
Perhaps you gather it from your garden or the woods.  Maybe you go to your neighbor's garden or community farmers market.  You go to the grocery to gather yet other foods.   If you'd like to make new connections with your food, you look to the Local Food Guide to help you find new farmers and products.  There are many ways to find your food.  Connecting your kitchen with locally grown food can sometimes be work, but is always a fun adventure.
The printing of these Local Food Guides is made possible through the support of businesses who purchased advertisements.  Pleaistell these businesses that you saw them in the Local Food Guide.  Under the guidance of Appalachian Sustainable Development, many people helped put the guide together: Mason Peterson designed the cover, Lidany Rouse took the cover photo, Nikki Maus created the map, and there are a number of others who gave time and thought into creating the Local Food Guide.
This year's Local Food Guide attempted to go back to the basics of providing listings for farmers, farmers markets, restaurants, businesses, breweries, and growers' organizations who grow and serve locally grown food.  Within the Local Food Guide, you'll also find information about the "Grown and Served Locally" message of Rooted in Appalachia and "Living Better, Locally" of Appalachian Sustainable Development.
We have been working to get the Local Food Guides distributed throughout the region.  If you live in southwest Virginia or northeast Tennessee, we hope you'll find one in your community soon.
Contact The Project Manager

Lindsey Felty
Project Manager

---
---
©2016 Appalachian Sustainable Development. All rights reserved.