FOR IMMEDIATE RELEASE 04/04/2023
Contact: Sylvia Crum
Director of Communications and Development
https://asdevelop.org
scrum@asdevelop.org
276-623-1121
276-791-5572

Duffield, VA, 04/04/2023 – On Monday, May 8, 2023 at 7pm, guests will enjoy a concert celebrating the life and legacy of Doc Watson at The Woodrow W. McGlothlin Center for the Arts at Emory & Henry College in Emory Virginia. Tickets are $28 in advance and $35 at the door. Tickets are now on sale: https://www.tix.com/ticket-sales/ehc/4926/event/1303446. Tickets can also be purchased in person at the McGlothlin Center box office during certain open hours. For more information, call the box office at (276) 944-6333. Doors open at 6pm with live music provided in the lobby by Tyler Hughes and Seth Conkin. Guests are invited to arrive before the show and share their favorite memories of Doc Watson on a memory board, purchase local ciders and beer and enjoy the pre-show entertainment. 100% of all proceeds benefit Appalachian Sustainable Development.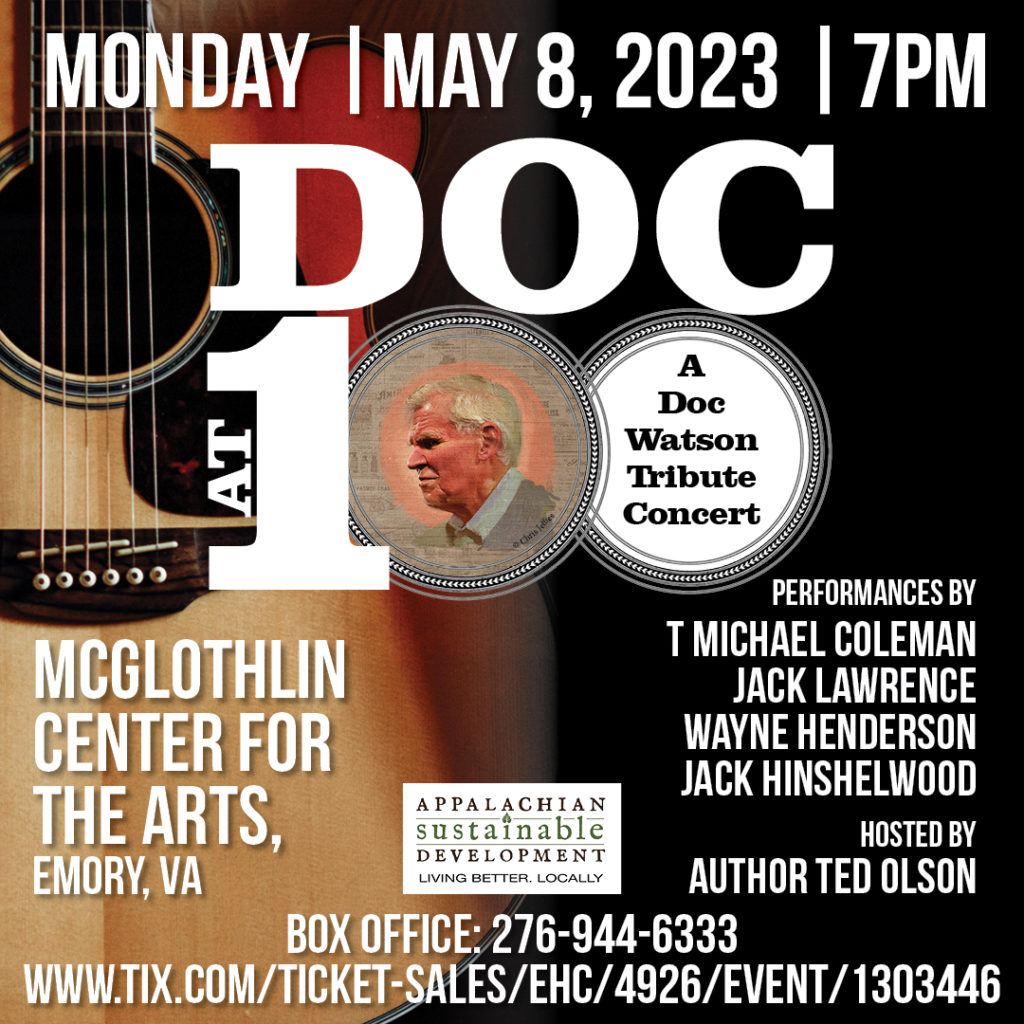 Arthel Lane "Doc" Watson was one of the most beloved artists of the 20th century. An American guitarist, songwriter and singer of bluegrass, folk, country, blues and gospel music, Watson won seven Grammy awards as well as a Grammy Lifetime Achievement Award. This celebration features his contributions and brings together artists who performed with Doc and were profoundly influenced by his music and called him a "friend".
Artists, T. Michael Coleman and Jack Lawrence, performed, recorded and toured with Doc longer than any other musicians. Joining T. Michael and Jack are fellow guitarists Wayne Henderson and Jack Hinshelwood, who were both heavily impacted by Doc's music through his many recordings and performances. Wayne counted Doc as a close friend, especially in Doc's later years when he visited Wayne in his guitar making shop in Rugby, Virginia.
The concert host is Appalachian music historian, ETSU Professor of Appalachian Studies and current Grammy nominee, Ted Olson. Ted authored "Doc's World: Traditional Plus", the book that accompanies the 4 CD compilation of recordings from Doc's career, "Doc Watson, Life's Work: A Retrospective", released in 2022 by Craft Records.
The concert is presented by a host of sponsors including: Blue Ridge Beverage Company, Chinquapin Designs, Emory & Henry College, Food City, Eastman Credit Union, Hampton Inn of Abingdon, WEHC, BurWil Construction, The Martha Washington, Truist Bank, Emily and Tony Anderson, George Whitley and the Rotary Club of Washington County.
About The Woodrow W. McGlothlin Center for the Arts
The Woodrow W. McGlothlin Center for the Arts fulfills Emory & Henry College's mission to increase excellence by utilizing the arts to affirm the liberal arts curriculum. A variety of activities are offered that contribute to the intellectual growth of Emory & Henry students by challenging ideas and issues that lead to critical thinking. With state-of-the-art technology, the McGlothlin Center for the Arts is a home to complement classroom studies with a professional performing art series and gallery schedule, as well as, student and faculty presentations in music, theatre and the visual arts. The Woodrow W. McGlothlin Center for the Arts honors the memory of Mr. McGlothlin, a 1937 Emory & Henry graduate and longtime beloved benefactor of the College. For more information, visit: https://www.ehc.edu/mca/.
About Appalachian Sustainable Development (ASD)
Living Better. Locally. It's what drives ASD's commitment to propel its mission to build a thriving regional food and agriculture system that creates healthy communities, respects the planet, and cultivates profitable opportunities for Appalachians. Since 1995, ASD has been working in Central Appalachia, providing hope, and making a difference for the people who call the region home. What began as opportunities for struggling tobacco farmers to grow fruits and vegetables have become lasting solutions to regional challenges that impact economic development, workforce development, food access, health, and wellness. Over the years, ASD has expanded its reach from northeast TN and southwest VA to include partners in WV, OH and KY, enabling the organization to bring resources back to the region. For more information, visit: https://asdevelop.org.
---
---
©2023 Appalachian Sustainable Development. All rights reserved.