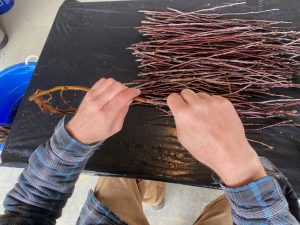 My wife, Alena, and I have had the pleasure to join Tom and Justen from Tumbling Creek Cider Company as they continue to push their new cider company forward. Located northeast of Meadowview, in Washington County, Virginia, the team at Tumbling Creek are striving to re-establish the apple industry in Virginia by growing heirloom varieties of rare or hard-to-find apples that will turn into delicious cider. It's been a great experience learning the process of grafting trees. We would take two separate pieces of tree: a rootstock from a dwarf tree species that would then be grafted to a piece of scion wood that contains the genetics for the specific variety of apple.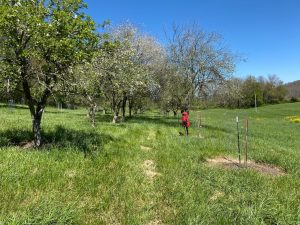 Currently, there are two types of orchards on the Kelly Ridge Farm. One, is a traditional one acre orchard where one hundred apple trees had been planted over a half century ago. Of those hundred, only forty survived to today and are currently producing, but the company is using this ground to test approximately fifty other varieties of apples. The idea is to see which varieties hold up best to the changing climate in Appalachia and will be resistant to mold, fungus, and insects, while at the same time producing good fruit. The other orchard, is what they call a "high density orchard." This orchard was planted in 2018 using trees that they grafted themselves. A high density orchard is designed to produce more fruit, but also to create less work and maintenance for the farmer. It basically looks like a mix between a hop trellis system and trellis system that would be used for grape production. My time this spring has been spent spreading mulch and weeding in both the new and old orchards as well as trying the trees to bamboo sticks to help aid their growth on the trellis system.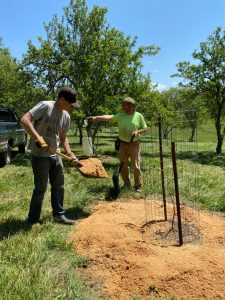 An additional portion of our mentorship has been learning how garden. My mentor, Tom, has a house on White's Mill Road in Abingdon that is truly impressive. The house is in the town limits with a really cool backyard garden that has: chickens, rabbits, guinea pigs, a greenhouse, garden area for greens, pond with blue gills and koi, a cherry tree, several apple trees, mulberry tree, blueberry in pots, herbs, asparagus, and so much more. It's been a lot of fun learning and seeing how he and his wife, Amanda, are able to grow and provide the vast majority of food for the two of them and their two sons, ages twelve and sixteen, and doing it in the middle of town!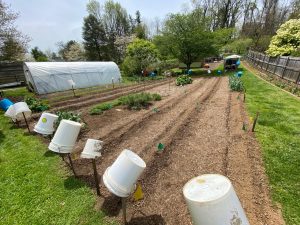 Thank you very much for reading and looking forward to reporting back more as the summer unfolds. Thanks again and stay safe, everyone!
John Fowlkes, 2020 FARM Intern
Tumbling Creek Cider
---
---
©2020 Appalachian Sustainable Development. All rights reserved.