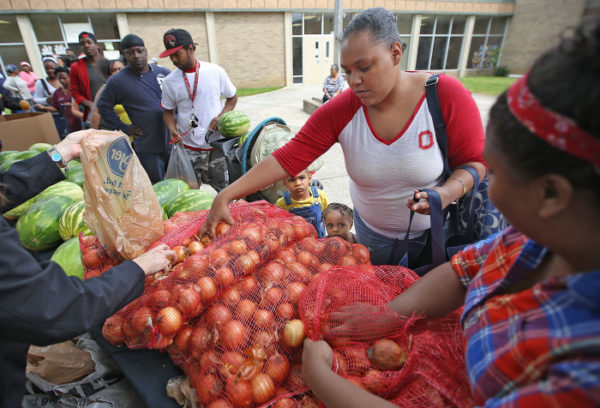 Local food presents us with a powerful story, and some want to use this story without the effort of actually sourcing their products locally. A recent article written by Laura Reiley of the Tampa Bay Times made national news. After an in-depth, two-month investigation, she exposed numerous fraudulent claims of "local" food in the Tampa Bay, FL area.
Our own greater Tri-Cities community is not immune to "local washing," when businesses claim to be selling local products that actually are not. For businesses that want to serve local, but find it difficult to source local, the staff that serves Rooted in Appalachia will do our best to help you. We want to see more young people growing, selling, and serving local food. How can we help make that happen?
Many of our region's farmers sell their bountiful harvest to local restaurants and grocers either directly or through wholesale distributors. Dollars spent purchasing local products means more money is staying in our local economy, benefiting the region as a whole. The positive economic impacts of us all buying local are real, documented, and worth keeping transparent and truthful.
Next time you eat out or go shopping, look for the "Rooted in Appalachia" logo in businesses or on product labels. Rooted in Appalachia was developed by Abingdon Convention and Visitors Bureau and Appalachian Sustainable Development that celebrates our heritage and promotes the use of local foods in restaurants and other community businesses. "Rooted in Appalachia" is a program for local businesses to verify that their claims are valid, ensuring that you can trust that the product you are buying is supporting local farmers. You can read more about our farmers and buyers on the website, www.rootedinappalachia.com. If an item is labeled as "local," the business should be proud to tell you its source. The more you ask what's local, the more likely it will be offered and the more transparency there will be for us consumers.
We have a rich heritage of agriculture in our region, though today we have many more food choices than our grandparents did. The greatest choice, still today, is, to be honest. We're proud of being rooted in Appalachia, through history, family, work, and food. It benefits us all to grow, eat, and serve locally. "Rooted in Appalachia" honestly carries the food heritage of our past into the future, connecting residents and visitors of southwest VA and northeast TN with a vibrant and thriving food culture.
Consumers that are Rooted in Appalachia:
Make a good faith effort to purchase locally-sourced foods on a year-round basis
Grow their own food
Ask "what's local" wherever they shop
Supporting their local farmers and farmers markets
Participate in efforts to promote local foods in their community – farmers market demonstrations, local food workshops, speaking engagements, etc
Choose local beers and/or wines
This article is a joint effort of Tamara McNaughton, Agriculture Program Manager with Appalachian Sustainable Development and Alexis Close, Local Food Promotion Coordinator, and Emily Bidgood, Executive Director, with Appalachian Resource Conservation and Development Council.
---
---
©2016 Appalachian Sustainable Development. All rights reserved.