FOR IMMEDIATE RELEASE 01/10/2023
Contact: Sylvia Crum
Director of Communications and Development
https://asdevelop.org
scrum@asdevelop.org
276-791-5572 (cell)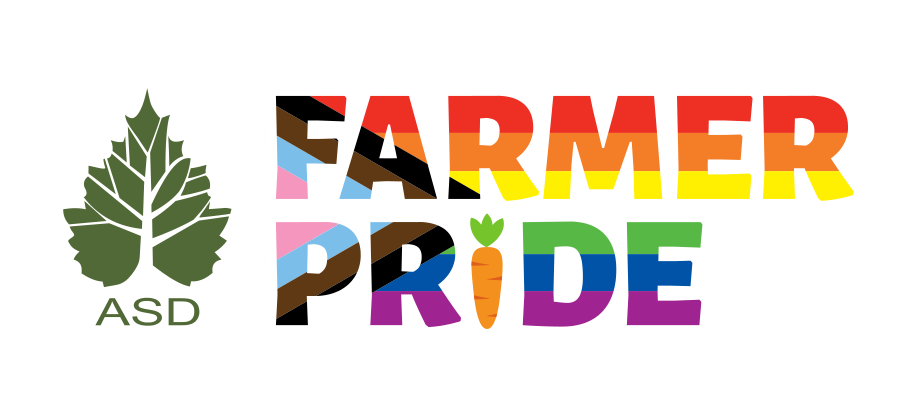 Duffield, VA – Appalachian Sustainable Development (ASD) has launched the region's first Farmer Pride Coalition to serve as a networking and education group to provide business and educational opportunities for farmers, growers, agroforesters, producers and others in the food system who identify as LGBTQ+. Showcasing the passions, talents and drive of the Appalachian LGBTQ+ community and showcasing the beauty, vibrance and resilience of the agricultural community in Appalachia are at the core of the Farmer PRIDE Coalition's mission.
After fall listening sessions and with community input, ASD has crafted a series of teachings and training workshops and virtual networking opportunities to meet the needs identified by participants and stakeholders. Dates and topics will be announced in the coming weeks. ASD has also created a coalition logo and will host the region's first Farmer PRIDE-to-Table Dinner in Kingsport, Tennessee on May 22, 2023. Tickets will go on sale in March and can be purchased online through ASD's Eventbrite Portal.
The Farmer PRIDE-to-Table Dinner will highlight the best in local food with a specific focus on those businesses, chefs and farmers who are proud supporters and members of the LBGTQ+ community. Guests will experience a three-course dinner that highlights local meats, fresh, local produce, and local crafted beverages. Live entertainment will be provided. Sponsorships are still available and inquiries should be directed to Sylvia Crum at: scrum@asdevelop.org.
"Farmer PRIDE is an opportunity to invest in our community and show our neighbors, our families, our children and our friends that Appalachia is a place where it's safe to be proud of who you are. Up to 20% of America's LBGTQ+ youth live in areas like ours. ASD's Farmer PRIDE Coalition shows them that they have a future here as part of our food system and as members of our community. With Farmer PRIDE, we plan to have a busy year providing targeted events to fully support all kinds of people in our region," Sylvia Crum, Director of Communications and Development said.
A key piece of ASD's work is to provide services to marginalized populations in northeast Tennessee, southwest Virginia and adjoining states. To that end, in 2021, ASD established a Diversity, Equity and Inclusion Committee composed of program and executive staff, volunteers and board members. To learn more about ASD's commitment to DEI, please visit: https://www.asdevelop.org/diversity-equity-and-inclusion/.
About Appalachian Sustainable Development (ASD)
Living Better. Locally. It's what drives ASD's commitment to propel its mission to build a thriving regional food and agriculture system that creates healthy communities, respects the planet, and cultivates profitable opportunities for Appalachians. Since 1995, ASD has been working in Central Appalachia, providing hope, and making a difference for the people who call the region home. What began as opportunities for struggling tobacco farmers to grow fruits and vegetables have become lasting solutions to regional challenges that impact economic development, workforce development, food access, health, and wellness. Over the years, ASD has expanded its reach from northeast TN and southwest VA to include partners in WV, OH and KY, enabling the organization to bring resources back to the region. For more information, visit: https://asdevelop.org.
###
---
---
©2023 Appalachian Sustainable Development. All rights reserved.