FOR IMMEDIATE RELEASE 07/27/2021
Contact: Katie Commender
Agroforestry Program Director
https://asdevelop.org
kcommender@asdevelop.org
276-623-1121
DUFFIELD, Va. – Appalachian Sustainable Development (ASD) has partnered with the Appalachian Beginning Forest farmer Coalition (ABFFC) to offer a forest farming intensive event: Propagation to Processing. Beginning forest farmers or those looking to ramp up production for market are encouraged to attend.

This forest farming intensive begins at 5:30 p.m. EST on Friday, September 17, 2021 and continues through 4:15 p.m. EST, Saturday, September 18, 2021 at several locations in Duffield, Virginia. Tickets are $40 per person and include lunch and dinner, but does not include overnight lodging. Space is limited and attendees should purchase tickets early: https://www.appalachianforestfarmers.org/va-ffi.

Starting at 5:30 p.m. EST on Friday at the Cove Ridge Center Natural Tunnel State Park, attendees will spend time networking with other forest farmers of various skill and experience levels. Dinner and a keynote about the history and future of forest farming from Dr. Jeanine Davis, lead author on the book Growing and Marketing Ginseng, Goldenseal and Other Woodland Medicinals, will be provided.

On Saturday, at 8:00 a.m., attendees will dig in with intensive learning stations covering site selection, propagation, syrup production and sustainable harvesting at Appalachian Cove Forest Farm, as well as post-harvest handling and processing at ASD's Appalachian Harvest Herb Hub. Lunch will be served with a keynote presentation about buyer specifications and market opportunities from Kathryn Crane, herb buyer at Mountain Rose Herbs from Eugene Oregon.
The multi day training event will take place both indoors and outdoors, rain or shine. The field component of this event will take place in the woods at a forest farm and will require approximately one half mile of walking in mountainous terrain. The indoor portion will include extended periods of standing. Appropriate clothing and footwear is advised.

About the Appalachian Beginning Forest Farmers Coalition (ABFFC)
The Appalachian Beginning Forest Farmer Coalition (ABFFC) is a network of forest farmers, forestland owners, universities and governmental and non-governmental organizations that share a common goal of improving agroforestry production opportunities and farming capabilities among forest farmers. The coalition's collective aim is to increase awareness of forest-grown medicinal, edible plants and products (non-timber forest products) through education and relationship building, and support conservation efforts through stewardship of existing plant populations and forest farming of these native botanicals. For more information, visit: https://appalachianforestfarmers.org.

About Appalachian Sustainable Development (ASD)
Living Better. Locally. It's what drives ASD's commitment to propel its mission to build a thriving regional food and agriculture system that creates healthy communities, respects the planet, and cultivates profitable opportunities for Appalachians. Since 1995, ASD has been working in Central Appalachia, providing hope, and making a difference for the people who call the region home. What began as opportunities for struggling tobacco farmers to grow fruits and vegetables have become lasting solutions to regional challenges that impact economic development, workforce development, food access, health, and wellness. Over the years, ASD has expanded its reach from northeast TN and southwest VA to include partners in WV, OH and KY, enabling the organization to bring resources back to the region. For more information, visit: https://asdevelop.org.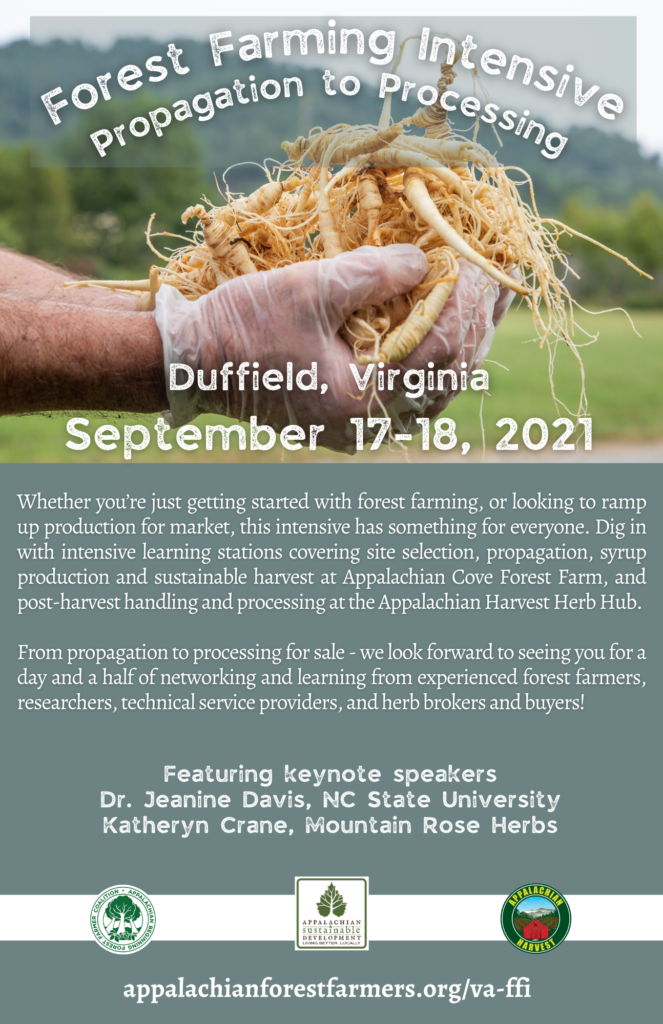 ---
---
©2021 Appalachian Sustainable Development. All rights reserved.