FOR IMMEDIATE RELEASE 06/14/2022
Contact: Katie Commender
Agroforestry Program Director
kcommender@asdevelop.org
276-623-1121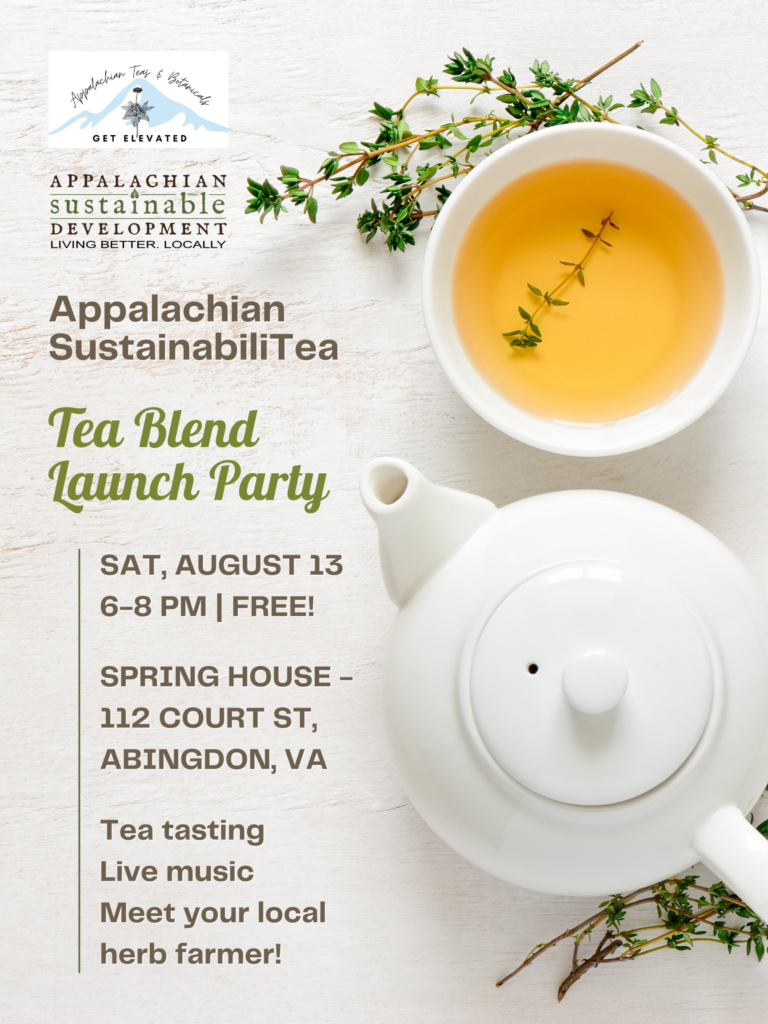 DUFFIELD, Va. – Appalachian Sustainable Development (ASD) and Appalachian Teas & Botanicals are hosting a tea blend launch party on Saturday, August 13, 2022 at 6pm at 112 Court Street, NE, Abingdon, Virginia, 24210. The event is free and will feature tastings of the specially created Appalachian SustainabiliTea blend, live music by K.T. Vandyke and a chance to meet Appalachian Teas and Botanicals founder Lori Briscoe and your local herb farmer who supplied the tea ingredients.
The special tea blend came about as a way to highlight the vibrant local herb community in the region. ASD's Appalachian Harvest Herb Hub works with a network of medicinal herb farmers, assisting them from seed to sale with training, technical assistance, processing, aggregation and marketing services. This year, Herb Hub farmers are supplying locally grown herbs to Appalachian Teas & Botanicals. The partnership and the creation of Appalachian SustainabiliTea aims to highlight the burgeoning herbal community in a unique way.
ASD's Agroforestry Director, Katie Commender, hopes that this partnership raises community awareness and gives consumers a greater connection to local herbs, their uses and the farmers who grow them. A portion of sales will come back to ASD's Appalachian Harvest Herb Hub farmers and support ASD's vision of creating a thriving, regional herbal economy in Central Appalachia. Without dedicated and supportive buyers like Appalachian Teas & Botanicals, this work would not be possible. 
About Appalachian Teas & Botanicals
As a 5th generation Southwest Virginian, Lori Briscoe is passionate about deepening the connections between plants, people and place. As a Certified Herbalist she is driven to help individuals explore the value of bioregional plants as food and medicine. For the past 20 years she has been educating and inspiring adults and children to value and conserve Southern Appalachia's biological diversity and rich cultural heritage. Lori holds a B.A. in Anthropology, an M.A. in Appalachian Studies and Sustainable Development, and is a certified herbalist of the Appalachian School of Natural Health. In 2020 Lori founded Appalachian Teas & Botanicals bringing full circle her academic and deeply experiential approach to the wonder of the region. Her largely regionally gathered and grown teas and botanical products lift the body and spirit not only in Appalachia, but across the country. For more information, visit: https://appalachianteasandbotanicals.com. Virginian,
About Appalachian Sustainable Development (ASD)
Living Better. Locally. It's what drives ASD's commitment to propel its mission to build a thriving regional food and agriculture system that creates healthy communities, respects the planet, and cultivates profitable opportunities for Appalachians. Since 1995, ASD has been working in Central Appalachia, providing hope, and making a difference for the people who call the region home. What began as opportunities for struggling tobacco farmers to grow fruits and vegetables have become lasting solutions to regional challenges that impact economic development, workforce development, food access, health, and wellness. Over the years, ASD has expanded its reach from northeast TN and southwest VA to include partners in WV, OH and KY, enabling the organization to bring resources back to the region. For more information, visit: https://asdevelop.org.
---
---
©2022 Appalachian Sustainable Development. All rights reserved.