Farm to table suppers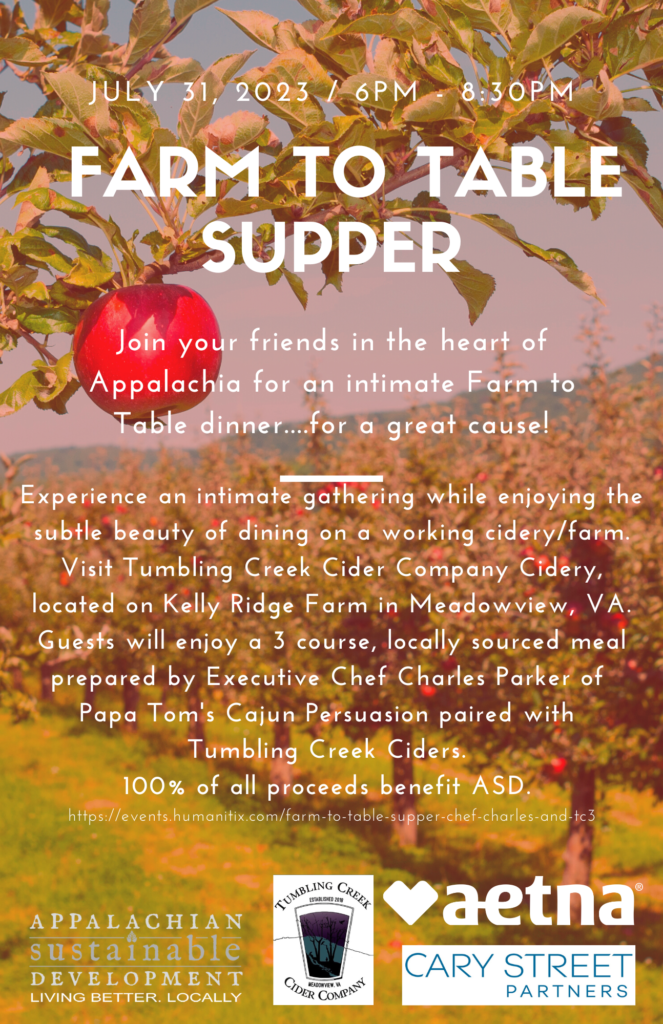 Come back with us to where it all started. Chef Charles Parker helped ASD create the first farm to table supper at Kelly Ridge all those years ago! Now guests will experience a 3 course, locally sourced seasonal meal prepared and served family style by Executive Chef Charles of Papa Tom's Cajun Persuasion, Abingdon. Tickets are $60/person and space is limited. Reserve your seat today: https://events.humanitix.com/farm-to-table-supper-chef-charles-and-tc3.
Chef Charles will create a unique Cajun/Appalachian menu that features the freshest ingredients in robust, rustic dishes. Not too spicy, just decadently flavorful, this menu is perfectly paired with Tumbling Creek Ciders (pressed and fermented on the farm). This dining experience will heighten your senses in every way. Seating is first come-first serve, and guests can sit at tables located inside the production facility our outside on the newly created outdoor patio (weather permitting). Layers and sturdy shoes are suggested.
Upon arrival, guests will enjoy local crusty breads, cheeses and pickled appetizers. Cider will be available for purchase. Supper is sure to please and also inspire. Each course is expertly paired with locally sourced Tumbling Creek Ciders.
Guests who arrive by 5:00 pm are invited to enjoy a special tour of the orchard, conducted by Tumbling Creek Cider Company co-owners. Guests are also welcome to purchase additional ciders before and after dinner.
100% of all proceeds benefit Appalachian Sustainable Development. This event is made possible through our generous sponsors: Aetna and Cary Street Partners.
276-623-1121
asd@asdevelop.org
©2023 Appalachian Sustainable Development. All rights reserved.