A Concert to benefit Appalachian Sustainable Development, presented by The United Company Foundation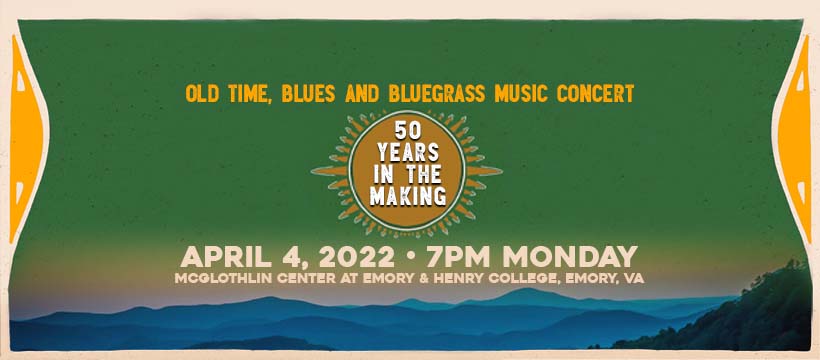 On Monday, April 4, 2022 at 7pm, guests will enjoy a live concert hosted by Jack Hinshelwood, celebrating old time, blues and bluegrass music at The Woodrow W. McGlothlin Center for the Arts at Emory & Henry College in Emory Virginia. Hinshelwood brings together 12 remarkable artists who are releasing a new recording containing 22 tracks from their recent collaboration to celebrate three distinct but connected musical traditions -bluegrass, old time and blues. The concert will feature recognized masters of these music forms including Phil Wiggins, Rob Ickes, Trey Hensley, Butch Robins, Ivy Phillips, Scott Freeman, Jacob Eller, Debbie Yates, Sandy Shortridge, and Jack Hinshelwood as host. A special feature of the concert will include two European artists, uilleann piper Ronan Browne from Ireland and euphonium maestro Steven Mead from England, performing via YouTube.
Tickets are $20 in advance and $25 at the door. Children 12 and under are $5. Seating is limited, tickets are now available: https://www.tix.com/ticket-sales/ehc/4926/event/1257594. Tickets can also be purchased in person at the McGlothlin Center box office during certain open hours. For more information, call the box office at (276) 944-6333. A photo ID, face masks, proof of Covid-19 vaccination or negative test within 72 hours of the event are required for admittance. 100% of all proceeds benefit ASD.
The concert is presented by The United Company Foundation. Additional financial support provided by: JA Street, Six Rivers Media, Blue Ridge Beverage Company, Chinquapin Designs, Davenport Financial, Emory & Henry College, Food City, Hampton Inn of Abingdon, WEHC, A Likely Yarn, Abingdon Olive Oil Company, BurWil Construction, Electric Hardwoods, HBC, CPA's, Holston Medical Group, HVAC, Inc., and The Polished Diamond.
The concert is the result of a recording project by the same name, a 22-track anthology of old time, bluegrass, and blues music that is being released with this event. "These songs and tunes have been gathering in my repertoire for about 50 years, hence the title of the concert. Many of the artists who played on the recording are part of the live concert and we will share selected tracks from the recording, as well as additional numbers that feature these remarkable artists." says Jack Hinshelwood the recording producer.
---
Meet the Artisits
A two-time W.C. Handy National Blues Award winner. The most awarded instrumentalist in IBMA history. A fiddler with championship titles from 7 states. These are just three of the remarkable artists who are part of 50 Years in the Making.
John Hinshelwood
Guitar and Vocals
Jack produced 50 Years in the Making, a 21-track recording and concert of old time, blues, and bluegrass music with some of the finest artists from those genres. The former Executive Director of The Crooked Road: Virginia's Heritage Music Trail, Jack has taught, performed, produced and recorded the heritage music of the Appalachian region for almost 40 years. Jack is a guitarist, fiddler, singer and winner of the Knoxville World's Fair Guitar Championship, the Wayne Henderson Guitar Championship, and a two-time winner of the Galax Fiddler's Convention guitar contest.
Ronan Browne
Uilleann Pipes & Whistles
Born and bred in Dublin, Ronan's musical development came naturally since renowned Irish artists like Willie Clancy and Séamus Ennis were family friends. Ronan's musical endeavors have covered a broad range including solo projects, the trio CRAN, the Afro Celt Sound System and Riverdance. In addition to writing and performing music for television and such films as Rob Roy and Gangs of New York, Ronan has been involved in over a hundred and fifty album recordings since his first venture into the studio in 1982.
Jacob Eller comes from a musical family and his early experiences included playing bass for Galax-area bluegrass band No Speed Limit, honing the skills that he brought to bear later with The Church Sisters and with mandolin superstar Sierra Hull.  
Scott comes from a family rich in musical talent and his dynamic mandolin playing is built on an interest in a wide range of genres including bluegrass, old time, and jazz.  Scott's numerous recordings on mandolin, guitar and fiddle have been made in solo settings and with artists like Skeeter & the Skidmarks, Alternate Routes, Edwin Lacy, Willard Gayheart, and his daughter, nationally recognized recording artist Dori Freeman.  Scott's teaching, writing, and arranging music also makes him one of the busiest artists in his home area of Galax, Virginia.
A Tennessee-born guitar prodigy who made his Grand Ole Opry debut at age 11 alongside Earl Scruggs and Marty Stuart, Hensley has been called "Nashville's hottest young player" by Acoustic Guitar magazine.  Hensley has since shared stages with artists such as Johnny Cash, Steve Wariner, and Peter Frampton. Trey is now half of Rob Ickes & Trey Hensley, a powerhouse acoustic duo that has electrified the acoustic music scene with their white-hot picking and soulful duet singing.
The International Bluegrass Music Association (IBMA) notes that Rob is the most awarded instrumentalist in the organization's history, having won Dobro Player of the Year for a record-setting fifteen times. In addition to being a founding member of the influential bluegrass group Blue Highway, Rob has worked with Merle Haggard, Earl Scruggs, Alison Krauss, Willie Nelson, Dolly Parton, Patty Loveless, and many others. Currently, Rob tours with singer and guitarist Trey Hensley and continues to collaborate with artists like Tommy Emmanuel, Taj Mahal, and Vince Gill.
Steven Mead is one of the world's leading brass soloists and has played with symphony orchestras in Norway, Finland, Poland, USA, Canada, Italy, Japan, Germany and many others. He has also given concert tours and recorded with several of the leading professional chamber ensembles in Europe, including Spanish Brass and Trombonisti Italiani. Steven has produced over 65 recordings and serves as Professor of Euphonium at the Royal Northern College of Music in Manchester, England.
Ivy Phillips' star has been burning bright since age three when she first became hooked on bluegrass music.  That music has been flowing from her ever since on fiddle, guitar, dobro, banjo, mandolin – basically any instrument she picks up.  She is the current champion in flatpick guitar and dance of the 2021 Kentucky State Fiddle Championships and holds state fiddle champion titles in no less than 7 states.  In 2016, her fiddling got her named the Best All-Around Performer, the most sought-after award at the Galax Old Fiddlers Convention. Ivy also performs with High Road, an all-female group of singers and instrumentalists playing gospel, bluegrass and country music.
With his innovative mind and creativity, Butch Robins has few peers in the world of the banjo and a resume that includes making music with heralded artists like the New Grass Revival, Leon Russell, and the Father of Bluegrass Music, Bill Monroe. In 2016, Butch was inducted into the Bill Monroe Bluegrass Hall of Fame in Bean Blossom, Indiana. In addition to performing and recording, Butch has shared his extensive knowledge of the banjo, bluegrass music, Bill Monroe, and other topics through his autobiography, workshops, and videos.
A fine guitarist with numerous recordings to her credit, Sandy uses her dulcet-toned baritone voice to great effect singing and playing Appalachian ballads and the award-winning songs she has penned about life in Southwest Virginia.  Her songs have been recorded by such artists as Joe Mullins and the Radio Ramblers and Larry Sparks, one of the most revered performers in bluegrass. Her songs are imbued with the feel and sound of the Appalachian region she was born and lives in.
Phil is a blues musician, teacher and artistic director, and a two-time winner of the prestigious WC Handy Blues Foundation awards. He is also a recipient of a National Heritage Fellowship from the National Endowment for the Arts. Phil is a master of Piedmont blues style which he has performed alongside some of the finest Piedmont guitarist/singers like John Jackson, Warner Williams, and John Cephas, with whom Phil shared a 32-year partnership, entertaining audiences across the world with their down-home blues. Phil is as busy as ever now with solo appearances, collaborations with other artists, teaching blues harmonica, and with his groups the Chesapeake Sheiks and Phil Wiggins House Party.
Debbie got an early start in old time music playing guitar and clawhammer style banjo alongside her fiddling brother Brian in the Konnarock Critters. Their hard-driving and authentic sound made them favorites at music festivals on both sides of the Atlantic. The group produced several sought-after recordings including their 2002 recording of O Sister.  Debbie and husband Tim now perform old time music as the Yates Family fronted by their daughters Molly and Sadie.