For a few years, I have been working with Rural Resources and I have learned a lot.
In the first year, you are working in the garden and learning how to deal with animals. During the second year, you're getting out of the garden and pins, and into the kitchen. You're working with local farm fruits, vegetables, and meats. The third year, you're sitting down with Debbie and figuring out what type of business you would like to go into. The fourth year, you're getting out of sitting down with Debbie, now you're getting out in the action and starting your business up, getting out to the public.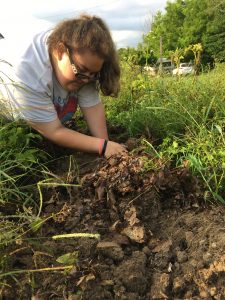 Welcome to the 5th year, this is where I am right now. I am currently a Youth Intern. You can intern a lot of different places and I am at Rural Resources. You get to intern anywhere like animal shelters, working on a farm, or going to help people at their house to help them with their gardens. The internship can be what you like. Rural Resources helps get us there and find where you want to go.
I have learned several things while working with Kathleen in the garden,
like tying up tomatoes plants; weeding around the beds; and harvesting a lot of flowers, garlic, potatoes. We find a lot more when we get down and really look at the plants. My schedule changes each week and I don't really enjoy getting up early, but we start early because it really gets hot really fast when you are working in the garden. It has its upside too, though. You get to see lot of different plants you have never seen before, and if you haven't watered a garden before, they will let you water the garden. Kathleen has us help plant all different type of plants, vegetables, and flowers. Working with Rural Resources has given me a whole new outlook on what farmers do for a living because I couldn't do what they do. I give them a lot of respect because I couldn't do this every day like they can.
I like working here because they feel like my second family.
Thanks: Cheyenne Floyd
---
---
©2018 Appalachian Sustainable Development. All rights reserved.