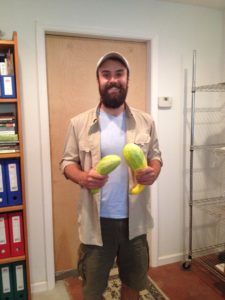 When one imagines the farming lifestyle, often the idyllic dominates the mind:
tidy beds overflowing with produce, rolling hills dotted with ruminants happily chewing cud, immaculate plants, quotidian super-nutritious meals, and a less hectic schedule away from the manic activity of city life. I've found that while these mental vignettes can sometimes be accurate, seldom do these all occur at once and not without effort on the part of the farmer.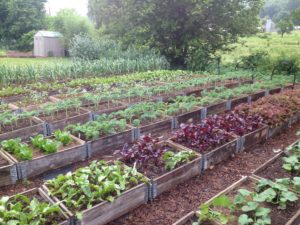 April was unusually cold and May was one of the wettest Mays on record. These are just the beginning of challenges. One can't forget about the pests. It is especially a concern for those practicing organic methods to address these issues. I remember the sudden appearance of the cucumber beetles in our hoop houses. One night there was not a one to be found. Two days later, we had an infestation. It was then that I learned these pests may also come from miles around, seemingly materializing on your plants overnight.
Sometimes, the gardener experiences unusual or unexpected things.
Recently, some of our raised beds showed signs of damage with plants broken and strewn about. This occurred three times and each time the damage grew more severe. We guessed it might be pigs or voles or maybe deer. A few days later, upon seeing a rather large snapping turtle vigorously burying itself in the loose soil of our raised beds, we found the culprit. Oh, the things you'll see when farming! I could continue with stories of our struggles with pest and disease at Harbin Hill, but the space of this blog would be insufficient. Rather, reader, let me turn your attention to the advances we are making.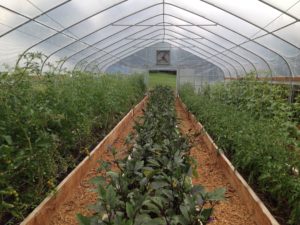 The hoop houses are reaching their stride. Cherry tomatoes are continually ripening and the heirloom tomatoes have just begun to blush. Cucumbers, like their pests, seemingly mature overnight and the squash, not to be left behind, seems to grow from single-serving to "family-size" in the blink of an eye. We have worked hard to attain such abundance and we are enjoying it. For myself, I'm surprised by not only how much one can grow in a hoop house, but also how much I've learned in one.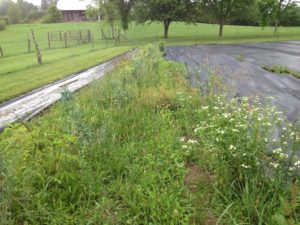 Elsewhere on the farm, progress is slower but steady. Every week, not only does production space increase, but our total production also increases and we refine our methods. What we have dubbed the "big garden" is slowly changing from a space overrun with weeds, to an orderly bed of summer crops like tomatoes, eggplant, melons, or squash.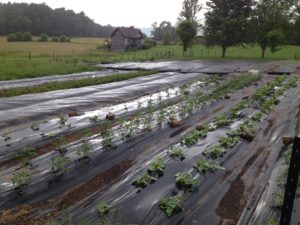 We are virtually breaking new ground here though this space was under production last year. Smothering weeds with black plastic mulch and landscape fabric is our method of choice in the big garden because it reduces our workload significantly. My mentor and I have never used black plastic in the garden so we will be curiously eyeing our progress.
On the subject of new ground, we have very recently plowed and tilled more plots for our newest expansion. Though behind schedule, these 100 ft. x 300 ft. plots will be sown in sweet corn, winter squash, pumpkins, and possibly melons.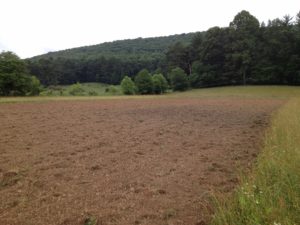 In terms of scale, this might be called "micro-farming" yet that description assumes upon heavy equipment. For us, the size is a little daunting as we will use hand equipment and elbow grease.
In the coming week, we plan to shape the beds using a BCS two-wheel tractor to prepare the ground for sowing.
Wish us luck, would you?
By Jacob Nessamar, 2018 FARM Intern
Harbin Hill Farm
---
---
©2018 Appalachian Sustainable Development. All rights reserved.