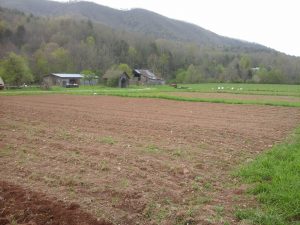 This is a good year to be in this program. Last year my mentor, Christy, had her farm in Laurel Bloomery, but they have now moved to a larger farm in Butler, TN. So I get to see what is involved in starting a farm from scratch but with an experienced farmer. The downside of this is that everything is later than it would have been, so there are very few things ready for market at this time.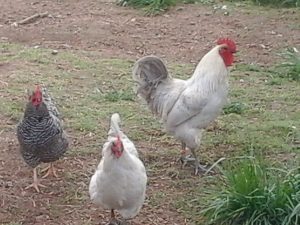 The first thing we had to do was to provide for the animals. We moved a chicken coop over from the old farm and built a run around it. The chickens were moved at night and seemed to be quite content in their new home when they woke up in the morning. There are barns on the new farm, but fences had to be built to contain the cows. Moving them wasn't quite as easy as moving the chickens, but they have settled in. These moves were accomplished in February, but the bees couldn't be moved until later. This was done when the weather warmed up in April. This also seems to be successful. While we were waiting for the high tunnel to go up, we tilled a small area to plant garlic. Because it was late, we didn't take the time to cover the ground to kill the grass before tilling. This has resulted in a lot of weeding, but the garlic is coming up and looks good. We covered an adjacent area and will be tilling that up for other herbs in a couple of weeks. Hopefully this area will not be as labor intensive.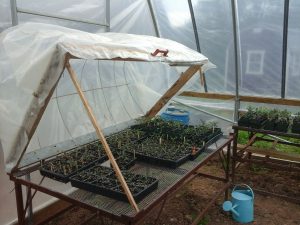 A plant seeding table was constructed with a movable top and heating mats to start seeds. This would normally be done earlier, but better late than never. This table had to be outside because the electricity wasn't in the high tunnel yet. Once the plants were up, they were moved to the high tunnel and more seeds were started. There is limited space on the table, so we did a mixture of things which will help with succession planting. We still have work to do in the high tunnel before we can direct plant there. I have learned a lot about starting and transplanting plants. Before this, I had only bought a few plants to plant in a small garden. On the outside, we plowed and tilled several gardens and have been transplanting there as the weather allowed. So far we have potatoes and cold tolerant greens planted outdoors.
Alan Nywening, 2020 FARM Intern
A Bushel and a Peck Farm, Laurel Bloomery, TN
---
---
©2020 Appalachian Sustainable Development. All rights reserved.