As the summer draws to an end, I am welcoming the fall harvest and abundance that it usually brings.
The past four months have been exciting and filled with valuable lessons. I began this internship with big dreams and lots of questions. Months later I find myself with a greater understanding of seasonal planting, the local Appalachian sustainable economy, and a general knowledge of farming and all that entails. My mentor has been an amazing teacher and a wealth of knowledge this season.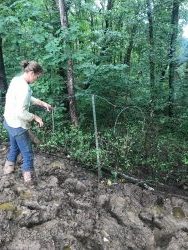 My biggest takeaways from this experience would be to always have a pair of muck boots in your vehicle and to go with the flow. You can plan and schedule all that you want but sometimes things happen on their own time. The most fun I have had would be selling produce and plants at the Abingdon farmers market, followed by repairing a barbed wire fence in knee deep mud. Frustrating and hilarious at the same time.
Each day has brought new challenges and experiences. I have used tools that I have never seen before and cultivated a love for the quiet (save for the neighbors guinea hens) countryside.
I am several steps closer to my dream of being a farmer.
I now own a truck, and I am building a useful tool collection. You never know what might come up on any given day. My mentor and I spent most of our time picking, planting, tilling and washing produce. The conversations that you have and spontaneous songs that are shared in the field keep things lively. I would have to say that my favorite plant this season is okra. I had always wondered how it grew and the flowers are so beautiful for such a unfriendly plant. If you have ever picked okra, you know what I mean. I would walk away from picking a row of okra with rashes on my arms and a smile knowing I got to enjoy freshly picked summertime.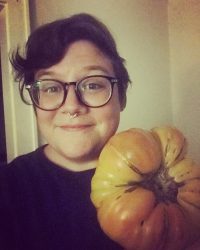 Nothing beats picking beans, they are rough but very rewarding when you see them fly off the table at market. Tamara has a saying that by the end of the summer you are hunting for the plants instead of picking them. With organic gardening, the weeds can get the best of you and the rows. So as the summer went on we became hunters of butternuts, beans and shallots. It can be a rewarding game.
This year has been very fulfilling and challenging. I am grateful for this opportunity and see it as the biggest stepping stone in my farming career yet. If you ever get a chance to volunteer at a farm, go and pick some food from the earth and take a bite out of a raw veggie. It's one of the most satisfying snacks out there.
Mikal Davis – 2018 FARM Intern, TNT Farm N Greenhouse
---
---
©2018 Appalachian Sustainable Development. All rights reserved.