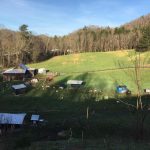 My first two months working for Debbie Snyder has been a very active one.
For the first few weeks we have been picking up the dried weeds from the garden areas to get them ready, picking up gourds from the garden area so it can be plowed, and getting the fences replaced for the rotation (to provide another fresh grassy area for the animals.
During this time we also started feeding the animals in the morning, 21 female goats, 1 male goat, 19 baby goats, 5 chickens, and 2 lambs. Sometimes in the morning Debbie would have stuff to do somewhere else and would have us (me and my farm-mate, Deklin Thomas) feed the guard dogs and the goats and count the goats to make sure nothing happened to them over the night.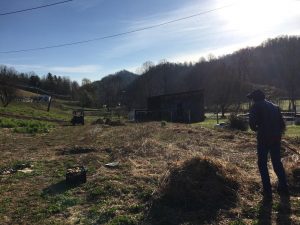 So far it has been tiring but fun,
especially when your trying to catch that one baby goat that won't let you hold it. We have made it our goal to catch and hold each one of them to get them to make it easier to de-worm them or something like that.
By 2019 Intern Jonathan Holloway – Brown's Farm, Mountain City, TN
---
---
©2019 Appalachian Sustainable Development. All rights reserved.