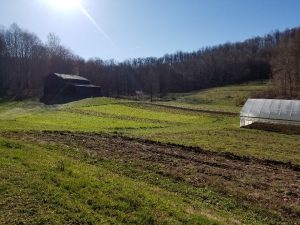 #wolfsintern #day1 First off, the 30-minute drive is stunning, especially in the morning when everything is still waking up. The sun just barely peeks over the ridge through the trees, enough to light up the other ridges but not enough to blind me. I got to the farm and we took a thorough tour. Steve showed me where to find tools and materials, the different garden beds and what the plan was for each. I got to learn the different fruit trees, and their names which were after their grandchildren's names. He talked about the hoop house, how to roll the sides up and down, a little about irrigation. We looked around the barns and fences, up to the chickens, donkeys, cats and horse, greeted them and learned where the food is kept (key). Their farm is beautiful, and so cared for. I know I'm going to learn so much each and every day. #lifegoals #mightyblessed
#wolfsintern #day2 Tried a different route this morning and immediately regretted it. Note to self: always take the back roads. I arrived at the Wolf's and Steve and I got to talking about fertilizer. Another huge sign that I am exactly where I need to be. I've always steered clear of fertilizers, plant foods, soil amendments, and all pesticides. Not because I didn't believe in them or didn't like them, but because I just didn't know much about them and had no personal experience. Here I am on my second day sharpening one of my dullest skills. He walked me through the math and how to calculate how much to use on a given area or amount of plants; the Label is the Law! We then took fertilizer to the blueberry bushes and asparagus patch. Giving nutrients like this back to the soil creates healthier, stronger, and tastier plants. I admire Steve and Becky's dedication to maintaining healthy soil and keeping sustainability a top priority.
#wolfsintern #day3
Today we got to love on the garlic patch a bit.
They have it perfectly hilled with vibrant green garlic shoots standing tall out of an even golden layer of straw. About 15 rows, roughly 90 feet in length. We sprinkled a bit of fertilizer around each of the plants and wished them a happy spring. I didn't get to help plant them but I've never grown garlic at all so I will still be able to learn a great deal about them this season.
#wolfsintern #day4 Drove out to the farm this afternoon after school, so I got to work with Becky! Her and I worked on digging up baby strawberries that were in the old patch and moving them to a new spot near a few other perennials. Yet again, something I've never done! With each transplant we left some worm castings in order to give it a little boost. We chatted and I got to know more about Becky and their kids and grandkids. She's a hard worker, that woman. Becky spends her mornings at Lowes throughout the week, getting up literally at the crack of dawn. Then after work comes and works on the garden in the afternoon. She says its relaxing though, that's how she unwinds from the day. That really resonated with me.
#wolfsintern #day5
Today we got to plant onions, probably my favorite garden discovery when I began my agricultural journey.
I used to be a terribly picky eater… to the point that I'd refuse my mommas sautéed veggies and spend half of dinner scooping out all the beans and onions from my dad's chili. Everything changed when I began volunteering on farms though, and now I can't get enough! Planting these lil guys this morning had me drooling and day-dreaming, summer is on its way. #spring2019
#wolfsintern #day7 Another Tuesday afternoon with Becky <3 soaking in these hours in the garden with her because soon Tuesday markets will need her presence. She taught me to drive the farm vehicle and made me drive it the entire afternoon so that I could get used to it. A little jumpy at the start but it was smooth sailing by the end. Feeling empowered and supported! We planted 4 apple trees to replace the fallen soldiers that lost the battle against the bear. Then we dug another rows worth of strawberries and transplanted them to the perennial bed.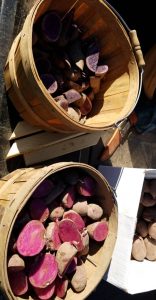 #wolfsintern #day8 Steve and I have been planting potatoes, working on getting them into the ground while the stars and planets are aligned. The Wolf's try to follow the astrological calendar as much as they can, weather and other conditions permitted. We planted All Blue and Terra Rosa potatoes along with a few different white potatoes. Steve said that mixed together they make a great red, white and blue potato salad for 4th of July!
#wolfsintern #day10 My parents and my sister and her girlfriend came for a quick visit and were able to join me and Steve on the farm this morning, after devouring some of Becky's canned relish and farm fresh eggs. It made my heart sing to have them here, and they loved every bit of the Wolf's farm. Steve took the time to tour them around, exchanging stories with my mom and dad the whole way. Then they helped me till and plant a row of red and yellow onions! I can't wait to take them some later this year.
by Samantha (Sunni) Balta, 2019 FARM Intern – Wolf's Farm
---
---
©2019 Appalachian Sustainable Development. All rights reserved.