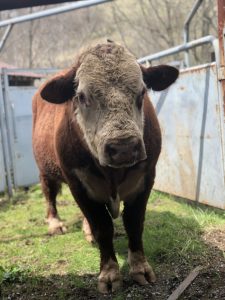 Working with cattle can be quite monotonous and laborious, but it is equally amoosing. Working at Valor Valley Farm through Appalachian Sustainable Development has strengthened my knowledge about cowmanship in more innovative ways.
Growing up I was raised around cattle the rough and tough cowboy way of roping, dragging, fighting, cursing, hooting, and hollering. While this rugged form of cowmanship is the foundation of cattle success in earlier agriculture… times are changing. Cowmanship is still not for the faint-hearted; however, due to technological advancements of equipment, growth of veterinary knowledge, and a deeper understanding of culling herds, successfully running cattle has become a smoother sailing operation. The saying "work smarter, not harder" is the driving force behind this more relaxed form of cowmanship—after all, farm work is hard enough without fighting a crazy cow to perform the simplest of tasks such as worming or vaccinating. Valor Valley Farm has closely managed their animals when selecting cattle for both breeding and market, which ensures desired genetics and docile temperaments among the herd.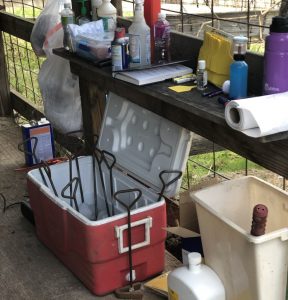 Along with the selective culling of herds, I have been introduced to a more innovative form of breeding known as AI—artificial insemination. While artificial insemination is not particularly new to the cattle industry, it is somewhat unheard of in this area unless performed by large scaled cattle operations. By performing the AI processes I not only learned the science and work behind this method of breeding, but also learned the affordability. For small scale cattle farmers artificially inseminating a herd of 15-25 would cost the same if not less than purchasing a desired breeding bull, not to mention that the herd would also be on the same breeding schedule ensuring a more predictable calving season. The costs of AI processes are quite affordable for smaller herds of cattle when comparing the affordability of buying a good bull, performing bull care, and cleaning up bull messes such as trampled fences and warped gates. Working and running cattle is monotonous and laborious, but it is also rewarding.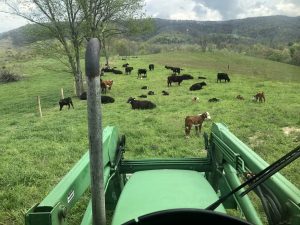 Being able to bring and improve life to and among the herd is what it takes to have true cowmanship regardless of how farmers and ranchers choose to do so. Learning methods of cowmanship that are new to me has been quite amoosing and I am excited to continue my journey as crazy cow woman with Valley Valor Farm.
Autumn Meade, 2020 FARM Intern
Valor Valley Farm
---
---
©2020 Appalachian Sustainable Development. All rights reserved.